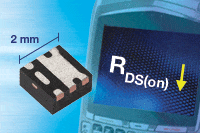 New 8 V p-channel TrenchFET® power MOSFET has the lowest on-resistance achieved for a p-channel device in the thermally enhanced PowerPAK® SC-70 2 mm by 2 mm footprint area (16 mΩ at 4.5 V, 26 mΩ at 1.8 V, 32 mΩ at 1.5 V, and 95 mΩ at 1.2 V).
The ultra-small PowerPAK SC-70 package of the SiA427DJ is optimized for small handheld electronics. The new device will be used for load switches in portable devices such as cell phones, smart phones, MP3 players, digital cameras, eBooks, and tablet PCs.
Read more from Vishay Intertechnology, Inc.