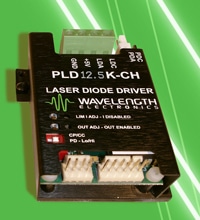 Wavelength Electronics' PLD-CH Series is now available in a 12.5 A model. This new driver supports fiber-coupled lasers used in applications such as medical, dental, micro-machining, material processing, semiconductor inspection, and imaging.
The PLD-CH Series offers single-supply low voltage operation from +5 V DC, which minimizes heat dissipation. For applications that require a higher forward voltage, a separate laser diode power supply input allows for flexible compliance voltages up to +28 VDC.
Learn more from Wavelength Electronics.