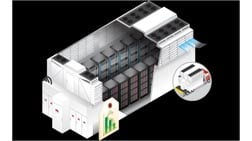 Offering a high-performance, energy-efficient alternative to traditional data centers at a fraction of the cost, the HP POD 240a, nicknamed the HP EcoPOD, delivers modular data center efficiency.
HP EcoPOD is designed to deliver savings and accelerate the move to modular data centers.
Unlike traditional brick and mortar data centers, the HP POD 240a packs 10 times the IT capacity into a compact, modular, efficient package.
Learn more from HP.