A journalist's recent visit to a secret Hong Kong Bitcoin mining facility reveals some of the newer cooling techniques in use to keep server temperatures from skyrocketing.
Introduced in 2009, Bitcoin is an open-source peer-to-peer electronic payment method generated through the process of "mining," in which computers are awarded bitcoins for finding the solution to specific mathematical problems. Global interest in the virtual currency is steadily growing in part due to its simple, safe and untraceable nature; however the amount of computing power required to solve the increasingly complex equations is rising, leading some Bitcoin miners to build facilities dedicated to the sole purpose of Bitcoin mining.
Chinese journalist Xiaogang Cao recently visited one such secret facility owned by ASICMINER in Hong Kong. Roughly the size of a shipping container, the computer "mining" system is comprised of 1-meter-high glass tanks capable of holding up to 92 blade servers. These servers are kept at a temperature of 37°C or lower using open bath immersion technology, in which electronic components are submersed in liquid with a low boiling point. In an open bath immersion system, heat from the components causes the liquid to boil and turn into a gaseous form, where it condenses at the top of the tank and eventually falls back into the bath. According to Cao, each tank, when filled with all 92 circuit boards, cooling liquid and other components, weighs approximately 200 kilograms.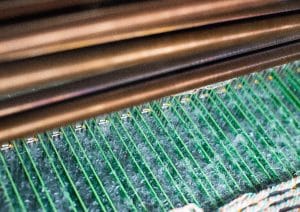 ASICMINER's open bath immersion system was reportedly built by Hong Kong-based immersion cooling technology specialist Allied Control and incorporates 3M"s Novec Engineered Fluids as the primary coolant. Said to be one of the most efficient designs in the world to date, the system operates at a Power Usage Effectiveness (PUE) of 1.02 and saves more than 95 percent of its cooling electricity energy, despite Hong Kong's hot and humid environment.
"This new data center project demonstrates the elegance of immersion cooling and showcases that it has what it takes to be the new gold standard in the industry," Kar-Wing Lau, vice president of operations at Allied Control, said. "There's no denying that immersion cooling will play an important role in the future, and that it has great potential for growth."