In one of our previous blogs on Electronics Cooling of Humans, we highlighted some of the on-going research projects at various universities in the US sponsored by ARPA-E. These projects are expected to achieve a step-change in the cooling technology of wearable fabrics and the costs of manufacturing them. It is worth noting that prior to the effort sponsored by ARPA-E, thermal engineers made significant strides in transforming space-age 'comfort' clothing into products for everyday use and with an affordable price tag… well, almost! In this blog, we will take a look at a few examples of wearable fabrics that exist thanks to advances in cooling technology.
The last few years have witnessed an explosion in the growth and variety of wearable gadgets with communication capabilities. As to be expected, they have made their foray into fashion –jewelry, clothing, etc. In addition to adding some 'smarts' into the product, comfort, personal safety, and security are the primary features that the fashion-tech products offer. It is not an exaggeration to say that fashion-tech wearables remain as one of the few product categories in wearable electronics that is witnessing a sustainable profit margin and growth. In fact, high end brands like Rolex, Fossil, Mont Blanc, TAG Heuer, etc. are witnessing healthy demands for the 'smart' versions of their existing products.
Fashion-Tech Wearables
The term fashion technology refers to the intersection of design, fashion, science, and technology applied toward realizing a product. Fashion-tech wearables are products like jewelry, garments, accessories, etc. that combine aesthetics and style with functional technology. It is an area where the creativity and ingenuity of technologists cohabits and accentuates equally creative and fashion-centric designs of jewelers, artisans, craft persons and the like. Fashion technology is on track to become a formal discipline in design schools and universities. If the number of Meetup groups is any indication, it is well on its way to become a sustainable product category with a healthy mix of makers: established and legacy product manufacturers and willing crowds to 'source' their concepts and ideas. A good reference to catch up on this emerging discipline is this book which provides a good understanding of the terminology, approaches, and examples of products. It also features a good collection of projects and resources about fashionable technology.
The principle components of a typical fashion-tech wearable product are:
package / jewelry / fabric / case materials, etc.
interfaces / connectors / circuit boards / wires / and antennas
microprocessors
sensing edge
response
software / operating system
power source / energy harvesting
For thermal engineers, it is important to recognize how the above components are packaged differently in fashion-tech wearables as opposed to other electronics hardware applications where space is less of a challenge. What is different in the fashion-tech environment is that fashion leads and 'dictates' the topology and form factor of the products, and cooling must work for the designed product configuration. The heat flux may not be as high in other hardware applications but the touch temperatures have much lower limits. Therefore thermal management is equally challenging in fashion-tech wearables. Furthermore, the heterogeneous material medium in which the 'smartness' of products is housed is so diverse that it indeed takes the ingenuity and creativity of thermal engineers to realize these products.
Some Examples of Existing "Cool" Fashion-Tech Wearables
Though older in technology, the following are some of the fashion-tech wearables where thermal management is the primary enabler and a key differentiator. And the fact that these examples were designed and produced about a decade ago makes them even more impressive. Most of the advances in smart fabrics with conductive nano-inks have been made in recent years; the same observation applies to miniature phase change materials (PCM) used in many comfort clothing.
It appears that shape memory polymers and phase change behavior engineered in them enabled the previous generation of comfort clothing. Shape memory polymers have the capability of changing their shape in response to external stimuli like temperature. These polymers consist of two polymer components with two phases, one of which has a higher melting temperature than the other, making the combination thermo-responsive. The shape-memory effect is realized from a combination of the polymer structures and their morphologies.
The first example, the K-Cap balaclava, introduced to the market in 2007, is an insulating garment designed especially for high altitude use. It was part of a project for the design and development of specialized clothing equipment to be used during a scientific expedition to Mt. Everest. This smart balaclava has established a new concept of protective clothing. It consists of a memory membrane fabric which modifies its physical structure according to variations in temperature, copying the behavior of the human skin. It has two layers of bi-elastic fabric that render the structure active, allowing complete freedom of movement. This balaclava is also extremely comfortable to wear.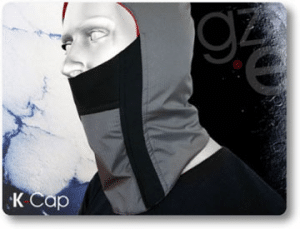 The second example, the Corpo Nove cooling jacket, was developed in 2006. This jacket is based on a miniaturized air-conditioning system that was commissioned by the U.S Army during the Cold War. It was designed to be fitted to the inside of combat clothing, allowing soldiers to fight and survive in conditions of extreme heat –for example after a nuclear blast. Each jacket has over fifty meters of 2mm-wide plastic tubing as part of the internal cooling circuit. The fabric is made of silver-coated silk.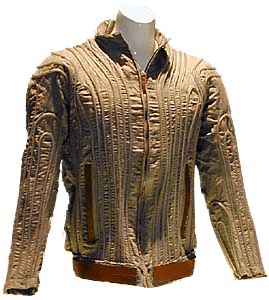 In addition to the above mentioned examples, others like the Oricalco shirt released in 2001 are worth mentioning. The fabric used for the sleeves of the Oricalco is made of shape memory knitting fabric, which contracts and expands as the room temperature rises or drops by a few degrees.
Electronics Cooling will keep you updated as fashion-tech clothing becomes more common in the coming years. Your comments are welcome. If you'd like to leave one, please use the comment form below.
by MP Divakar, Stack Design Automation
Technical Editor, Electronics Cooling