The Consumer Electronics Show (CES) which concluded earlier this month is the largest annual conference and expo for anything or everything in electronics in the continental USA. By some estimates, CES 2017 exceeded the previous year record, topping 177K+ attendees. In such a large conference, enabling technologies like thermal management often take a backseat to the product-centric and consumer-appealing expo. However, this year that was not completely the case –there were many products enabled by thermal management.
The technology categories at this year's CES were mainly along two distinctions: emerging and maturing technologies. As outlined below, the product verticals identified are along expected lines over the last year or more. At Electronics Cooling we would like to point out that we identified these categories in advance and our editorial calendar for 2017 well-reflects these trends.
Emerging Technology Category:
Smart Home
Digital Assistant Devices
4K Ultra High-Definition (4K UHD) TV/Displays
Virtual Reality (VR) and Augmented Reality (AR)
Drones
Wearables
In the following paragraphs, some products shown at the CES this year are shown for the above category.
Smart Home Products: Evolving as consumers' most popular means of IoT engagement. The products here include smart thermostats, smart smoke and CO detectors, IP/Wi-Fi cameras, smart locks and doorbells, smart home systems, and smart switches, dimmers and outlets, etc. Of the foregoing, products requiring compute power like smart home gateways/edge nodes, etc., will demand lower cost thermal management solutions requisite in the consumer devices.
In addition to the 'main stream' smart home products, few others stood out as innovative and of interest to thermal management professionals. One of them claims to be an efficient an efficient water heater using selective heating of Graphite plates, shown below.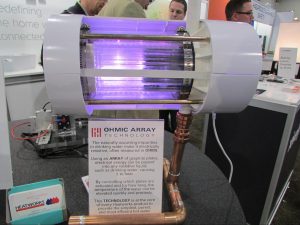 Another 'smart home' appliance is an inverter that serves as an emergency power backup with solar panels. This inverter has active cooling enabled by fans. The smaller version partly visible on the right is a portable one with passive cooling.
Digital Assistant Devices: These products present an opportunity to understand how home tech products will integrate artificial intelligence over time. Examples include Amazon's Echo and Google Home. These products are usually packaged with passive cooling solutions to keep costs lower, like this teardown shows for Amazon Echo.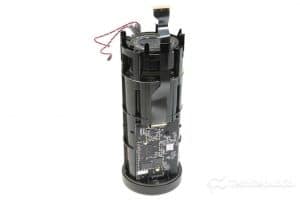 4K Ultra High-Definition (4K UHD) TV/Displays: one of the industry's fastest growing segments, driven in part by next-generation technologies like organic light emitting diodes (OLED), high dynamic range and wide color options.
It was interesting to see that large format (>80inch) 4K UHD displays with LED technology were using strategically placed multiple cooling fans to address thermal management.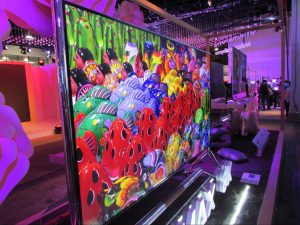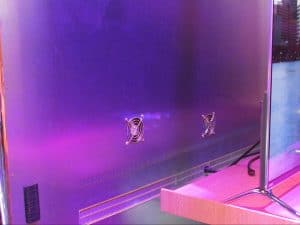 OLED displays on the other hand seemed to be using passive thermal management options like Graphite heat spreaders, thermal compounds etc.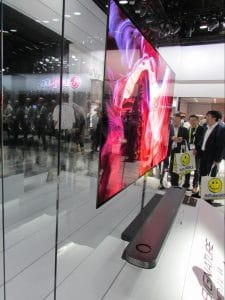 Virtual Reality (VR) and Augmented Reality (AR): in addition those headsets augmenting smart phones, self-contained products like Microsoft's HoloLens, Oculus Rift, etc., were also present in good numbers. It is worthwhile to note that some of the wearables with good compute capability were noticeably warm when worn.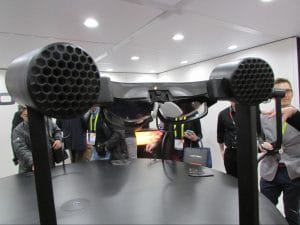 Drones: Drones are all the rage these days! But what would delight readers of Electronics Cooling is that thermal imaging cameras are becoming mainstream Drone applications. FLIR' Duo Thermal Drone Camera was particularly interesting as it was fitted into a Drone demonstrated at the show.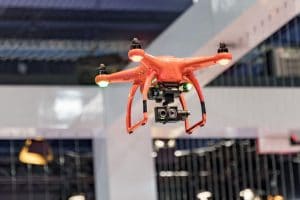 Wearables: Most readers would associate wearables with wrist-worn and in general body-worn electronic gadgets with communication capabilities but not smart fabrics used in comfort- and biomedical-clothing. Driven by the popularity of fitness activity trackers, products in this category include health and fitness devices, hearables and smartwatches as well as comfort clothing. At Electronics Cooling, we have featured multiple articles (here, here) on comfort clothing in 2016. To see many commercial offerings of the comfort clothing and therapeutic 'wearable' products further validates our content strategy.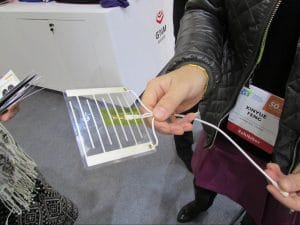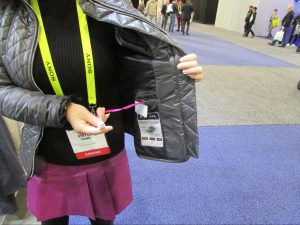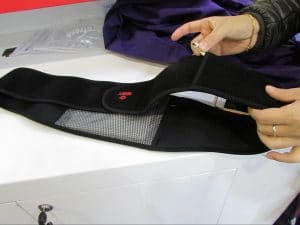 Maturing Technology Category:
Smartphones
Televisions
Tablets
Laptops
Desktops
All of the products verticals above are now in the technology maturity phase of their life cycle. Though the forecasts for laptops and desktops indicate decline over the next few years, they appear to be in no near-term danger of extinction. Thanks to advances in thermal management and electronic packaging in general, more compute and memory can now be housed in the same form factors that make these products particularly attractive. Advances in computer gaming and virtual reality make compute platforms indispensable.
Smartphones: With more capable processors and better power management, newer smart phones are meeting the average user's computing demands. Most are using existing passive thermal management technologies which include efficient heat spreaders, heat pipes (in some handsets) and thermal compounds. Phones with OLED screens are making thin form factor realizable while at the same time keeping the power budget lower.
Televisions: LCD displays with full-array and edge-lit LED technology seems to be hitting the limits in scaling to larger sizes and higher resolution displays. Larger (>80in) format displays seem to favor OLED technology from a power and cooling perspective; some examples were shown earlier.
Laptops: Gaming seems to be the primary driver for high performance laptops. Vendors like Razr who provide high performance gaming laptops with i7 processors are augmenting compute capability by also using external GPU and memory banks with Thunderbolt interconnect. The external GPU unit (Razr Core) uses dual fans to cool the bank of GPUs and memory.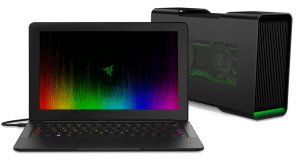 Desktops: Gaming and high performance computing are also providing extended life to older compute platforms like the good old desktop. There were several vendors showing excellent thermal management enhancements for gaming desktops and servers.
The primary approach to meeting higher compute demands is augmenting existing cooling with liquid cooling loops and fans. To that end, companies like Calyos and ThermalTake show cased loop heat technology.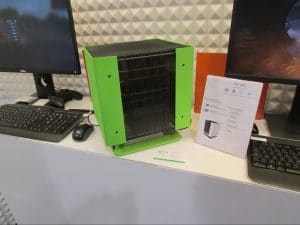 Some offerings of heat pipe-based thermal management provide retrofit capability where the existing chassis of the desktop / server require minimum or no modification (see figure below).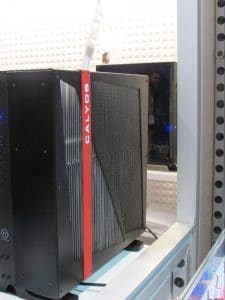 ThermalTake showcased colorful liquid cooling kits containing water blocks, colorful coolants, radiators, tubing, pneumatic fittings, cooling fans and other components.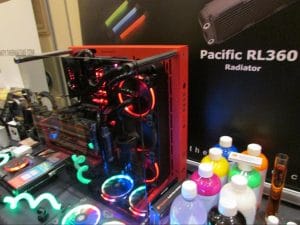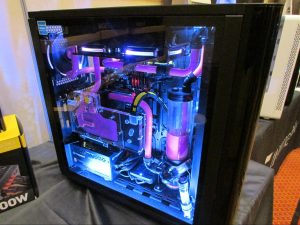 In closing, it is worthwhile to note the following trends in the consumer electronics product-space:
It may not be obvious, thermal management technologies are found in almost each and every consumer device available in the market. Without such enablement, such products would not be realized and accessed by the consumers.
The primary drivers of thermal management in consumer devices are performance and cost –these are more critical in the CE sector than others.
Newer / emerging CE products are using advances in electronics innovations such as faster processors, sensors, low power, newer fabrication technologies, electronics packaging and thermal management.
Older / mature products such as laptops and desktops are seeing resurgence in growth due to gaming and VR. Thermal management is the core technological block in the design of these products.
Your comments are welcome.