In Part 1 (Thermal Management of Outdoor Enclosures), key aspects for successful design and development of thermal management systems were covered briefly, among these, cooling device selections and its impact on power, battery back-up and maintenance has therefore become of paramount importance for telecommunications enclosures.  These are: Full active systems, like air conditioners, require AC power, are impossible to back-up efficiently and require lots of maintenance.  Assisted systems, like air-to-air heat exchangers run off DC power, can be backed up and typically demonstrate a longer maintenance interval.  Passive systems on the other hand require no power and are maintenance free.  Selection of the proper cooling system is therefore extremely important.
This part will focus on closed loop semi-active cooling units available to the thermal telecom engineer when designing the thermal management system for a new indoor/outdoor enclosure.  By closed loop is meant a unit, a system, in which the conditioned air is never exchanged with the outside, thereby forming a closed loop where enclosure air is brought to the cooling device and heat is then exchanged indirectly with the outside.  Figure 1 shows a typical cabinet with a closed-loop cooling unit where the air paths are indicated. Each closed loop cooling system (air-conditioners, heat exchangers, thermoelectric coolers and phase-change-material heat exchangers) is described in some detail below.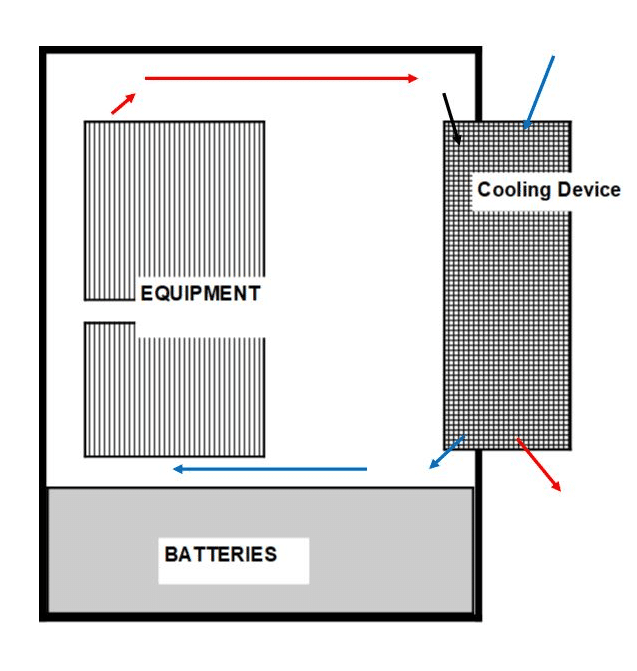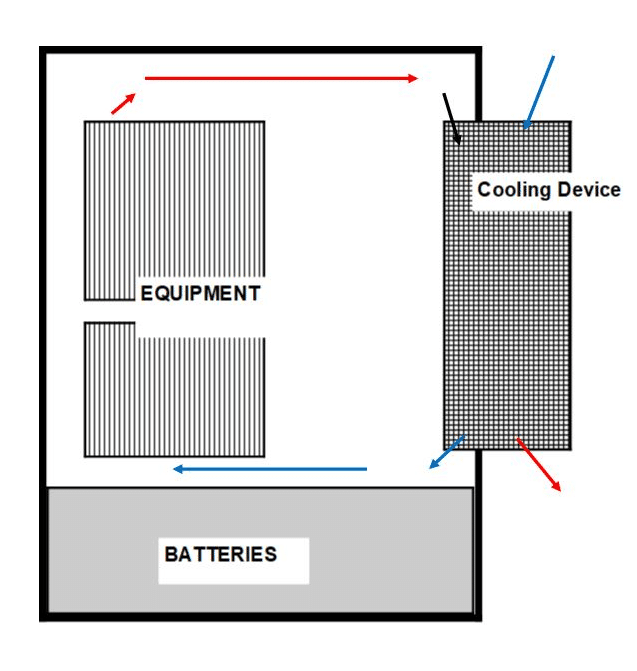 Figure 1 Typical Outdoor Enclosure with Key Components
Calculation of the cooling (or heating) load is the first step in the thermal design of any enclosure. After the cooling load, and therefore, cooling capacity is known then matching with the proper cooling system may proceed.  Although cooling load is important, what determines which system to install is primarily the temperature difference between the design internal temperature and the maximum ambient temperature, (Tenclosure – Tambient); and, secondarily, the ability of the system to be battery backed-up.
Semi-Active Cooling System: Heat Exchangers
Heat exchangers may be classified as assisted (semi-active) cooling systems since, although they are active in the sense that are equipped with air movers (fans or blowers) or water pumps, and they can be backed up during power failure.  In most air-to-air heat exchangers and fan systems, air is made to circulate using DC fans or blowers that consume relatively little electric power.  Thus, batteries can be used as back-up power until maintenance crews can repair the power outage. Similarly pumps to move water about consume relatively little power; however, maintenance and leakage concerns might make the designer not opt for their adoption into an outdoor system. Telecom manufacturers typically design and develop the enclosures' structures themselves and purchase fans and blowers from outside vendors.  Heat exchangers (heat transfer surfaces) may be bought fully designed and tested by outside vendors or can be designed in-house and then, outside manufacturers can fabricate them to specifications.
Heat exchangers are essentially energy transfer devices that rely on transferring heat from a hot fluid to a cold fluid using primarily conduction and convection.   Heat exchangers are typically classified according to flow arrangement and their construction. To size a heat exchanger for cabinet cooling duty, one must characterize its behavior.  The rate of heat transferred from the hot fluid (fluid 1, cabinet air) to the cold fluid (fluid 2, outside air) is given by (using a thermodynamic energy balance):


where
q = rate of heat transfer (or cooling capacity)
m1, m2 = mass flow rates of each fluid
Cp1, Cp2 = specific heats of each fluid
T = temperature
From the heat transfer standpoint, the rate of heat transfer is given by (using the Logarithmic Mean Temperature Difference):

where U is the overall heat transfer coefficient, that includes in a global way the heat transfer capability of the heat exchanger; and A is the total heat transfer area.  As heat exchanger become more complex, i.e., more internal passes, etc., the value of (UA) is difficult to obtain theoretically, thus many heat exchanger manufacturers conduct benchmark tests to develop performance curves to extract this value (and the temperatures used in the equation are those entering and leaving the heat exchanger body). Please notice that all the above expressions are required to fully characterize a heat exchanger.
Air-to-Air Heat Exchangers
Similarly, as with fully assisted cooling systems, once the heat rate to be removed has been calculated, then a cooling system must be matched to the outdoor cabinet.  If, for example, enclosure air temperatures do not have to be kept below the maximum ambient (outside) conditions and the load is not too high, an air-to-air heat exchanger is the preferred system.  Heat exchangers still allow for sealed electronics compartments but have much lower operating and maintenance costs along with allowing for battery back- up service for short down-time periods.
Two parameters are very important in the matching of the proper air-to-air heat exchanger:  a) the maximum outside (cooling air side) temperature and b) the maximum cabinet air temperature.  (Please note that enclosure air temperature must be higher than the outside temperature unlike an air conditioner). Unfortunately, most often, due to the reduced space availability in most cabinets chamber (unless placed outside), it is very difficult to design a heat exchanger that would meet all the specifications.  The reader should keep in mind that, unlike air conditioners, heat exchangers' heat removal capabilities change as a function of cooling air and cabinet air values; in fact, the heat removal rate is a function of the differential (Tenclosure-Tambient).  This fact brings the problem that if off-design temperatures are encountered, either the enclosure overheats or overcools.
Liquid-to-Air Heat Exchangers
Water-to-Air Heat exchangers belong to class in which water is used to cool the hot enclosure air when a supply cold water or other liquid is available.  This situation does not commonly arise in outdoor enclosures; but it is very common in indoor enclosures, for example central offices.  In these environments, a water cooler (or chiller) which is a very large heat exchangers akin to a power station cooling tower is used to cool water and then this water is brought into the water-to-air heat exchanger in the cabinet to cool the air. These heat exchangers are very cost-efficient and work well for central offices and large outdoor sheds if the cooling load is large and design temperatures can be higher than ambient.  Air conditioning should not be considered the first choice when high cooling loads are present.  A water-to-air heat exchanger works just as well with fewer maintenance and power requirements.