Munich, February 13, 2019 — SimScale is announcing a free webinar on 19th of February to teach engineers how to ensure efficient cooling, test multiple design versions and prevent thermal damage in electronics design.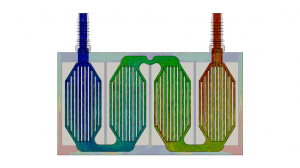 CFD simulation of a water-cooled electronic device (Source: SimScale)
In the electronics industry, neglecting to effectively cool a component within a system can lead to overheating, product lifespan reduction, and even operational failure. Using computational fluid dynamics (CFD) simulation, engineers can evaluate different key metrics, including rate of heat transfer and junction temperatures, as well as visualize the distribution of heat in critical areas.
There are several electronics cooling techniques currently used in the industry, most of them pertaining to two main categories: passive cooling and active cooling. While the first one uses natural heat transfer principles as leverage for thermal transport, the latter takes advantage of an external source for forced/active heat removal, such as a heat sink, fan, or a water cooling system.
For high-power applications, water cooling is a popular technique for ensuring that an electronic device is efficiently cooled, and functioning at its full capacity.
In a free webinar on February 19th, SimScale's engineers will teach participants about electronics cooling, focusing on the water cooling technique and explaining how CFD simulation in the cloud can help virtually test designs in only a few minutes without leaving the web browser.
Attending doesn't require any simulation knowledge or costs. As for the software needed, SimScale provides free access to the Community account.
Register here for this webinar and attend on February 19th, at 11:00 AM ET. Registrants who are not able to attend the live webinar will receive the recording via email.
About:
SimScale is a cloud-based CAE platform that gives instant access to FEA, CFD and thermal simulation technology for quick and reliable testing and optimization of electronics designs. By harnessing the power of the cloud,  SimScale is revolutionizing the simulation industry, allowing every engineer and designer to virtually test and optimize their designs via cloud. With SimScale, you can investigate temperature distribution and visualize heat flow to develop the best cooling strategy for your device. Compare active and passive cooling, find the right placement for fans and heat sinks, validate material decisions, and decide on electronics enclosure dimensions with engineering simulation in the web browser.
Contact:
Netty Zaharia, Marketing Manager, marketing@simscale.com