3D printing is growing rapidly and has shown the potential to disrupt the manufacturing industry. Like many emerging technologies, initial adoption is being driven by the highest value markets including biomedical and aerospace, where 3D printing for end use parts is now being implemented at commercial scale. Moreover, as 3D printer costs fall and capabilities continue to improve, many early adopters are starting to realize productivity and performance improvements. According to the State of 3D Printing 2019 (a well-known 3D printing study produced by Sculpteo consisting of data collected from 1,300 interviews with respondents coming from Europe [64%], the United States [16.6 %] and Asia [20.2%]), 80% of enterprises now say 3D printing increases their speed of innovation and 51% of respondents use some form of 3D printing in production.
One of the most economical and broadly adopted 3D printing technologies is known as Fused Deposition Modeling (FDM), a trademarked term also referred to as Fused Filament Fabrication (FFF). In FDM, a thin string (or filament) of plastic (typically 1.75mm in diameter) is extruded through a heated nozzle (typically 0.4 mm in diameter or greater) to create a 3D object one layer at a time. Engineers and designers create part files in CAD software and these files are "sliced" into individual layers using a separate software package for "slicing." Each sliced layer has a specific toolpath that tells the printer where and how to lay down plastic and the printed layers are stacked on top of each other successively to create a 3D object. More recent developments include printing parts from multiple materials, large area printing that can print objects greater than 1 m3, and a recent focus on advanced materials that enable printing of high performance and functional parts.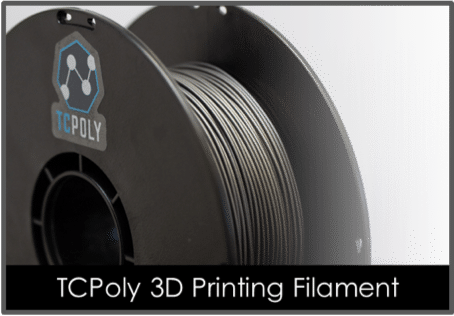 Figure 1:  TCPoly Ice9 Flex 3D Printing filament
One company that has focused on developing high performance, functional materials for 3D printing is Atlanta based startup company TCPoly, Inc. TCPoly has recently announced development of three new types of high thermal conductivity 3D printing filaments for low cost plastic 3D printing. Under the brand name Ice9™ (a reference to a fictitious polymorph of ice in Kurt Vonnegut's novel Cat's Cradle), TCPoly has released a flexible (Ice9 Flex), electrically insulating (Ice9 E-Ins), and high stiffness nylon based material (Ice9 Rigid) for use on any open material FDM printer. The filaments are compatible with both desktop and industrial printers. TCPoly produces filaments with up to 8 W/m-K (they can print up to 15 W/m-K in-house) and temperature stability up to 200˚C, depending on the specific grade. They also offer electrically insulating as well as EMI shielding varieties and mechanically stiff and flexible blends.
Although thermally conductive plastics have significantly lower thermal conductivity than metals such as aluminum (~150 W/m-K for common Al alloys), they have the advantage of being light weight, corrosion resistant, can be electrically insulating, mechanically flexible, and are easier to form into complex shapes. Thermally conductive plastics initially hit the market in the late 1990's and are sold at high volumes by various polymer compounding companies for injection molding or extrusion.
These traditional manufacturing technologies have the disadvantages of limited design freedom, wasted material, added weight because of processing limitations, and high tooling costs with a lack of customization. To overcome these challenges, TCPoly is focusing on creating high thermal conductivity composite formulations that work in the FDM 3D printing process. By combining high thermal conductivity with the design freedom of 3D printing, TCPoly's vision is to enable new heat transfer devices with optimized geometries and performance not achievable in traditional manufacturing. The most critical advantage for thermal management enabled by 3D printing is creating ultra-high surface area parts, allowing for high heat transfer rates to air or cooling liquids.
Moreover, 3D printing allows for complex, high surface area geometries optimized for convection and allows for parts that can outperform aluminum despite the lower thermal conductivity, especially under natural convection cooling. To date, their primary focus has been on creating new solutions for electronics cooling including custom heat sinks and enclosures, liquid cooling plates, and battery packs and cases. An example of several 3D printed heat sinking components printed using TCPoly are displayed in Figure 2.

Figure 2: Thermally conductive plastic composite heat sinks that were 3D printed using low-cost desktop 3D printers.
One specific example of the use of TCPoly materials is the simple application of a heat source being passively cooled using a finned heat sink. TCPoly's materials have approximately half the density of Aluminum and 3D printing allows for tall and thin (<1 mm thick), high surface area fins that can be printed quickly and at low cost. In Figure 3 below, a TCPoly 3D printed heat sink (printed using TCPoly's Ice9 Flex material at 8 W/m-K thermal conductivity) with half the weight of an aluminum heat sink displays equivalent thermal performance due to increased surface area and enhanced geometries only achievable through 3D printing.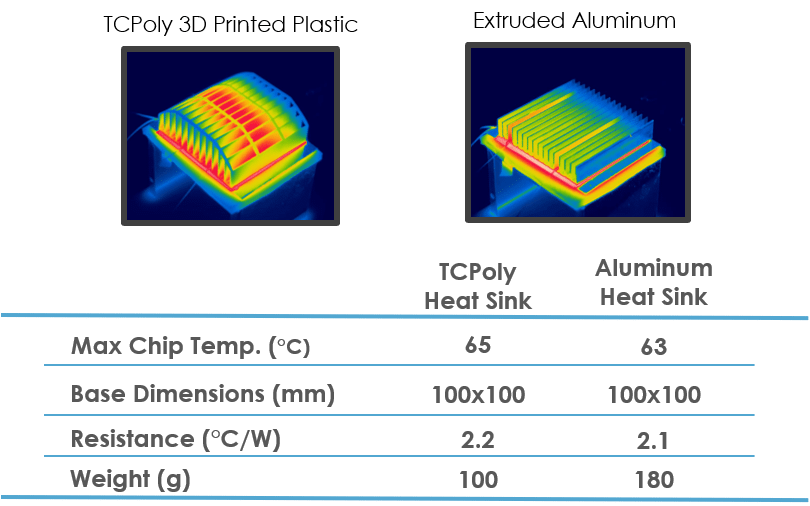 Figure 3: Thermal performance comparison of a heat sink printed with TCPoly materials and an extended aluminum heat sink
This demonstration shows the thermal performance in a very simple application; however, the technology is currently being implemented to print much more complex electronics cooling and heat transfer technologies. As illustrated below, TCPoly materials can be used to 3D print corrosion resistant and lightweight liquid cold plates, custom battery packs with internal cooling channels for battery thermal management, and high-performance heat exchangers that are lightweight as well as fouling and corrosion resistant.

About the Company
TCPoly was founded by two Georgia Tech PhD graduates, Dr.'s Matt Smith (Materials Science and Engineering) and Thomas Bougher (Mechanical Engineering) and currently has offices in Atlanta, GA and Knoxville, TN. The startup is funded through the Department of Energy (selected into the Innovation Crossroads Accelerator at Oak Ridge National Labs), ENGAGE Ventures (corporate backed venture firm in Atlanta, GA), and the Georgia Research Alliance (GRA).  TCPoly currently sells their thermally conductive materials at scale in both filament and pellet form and has the in-house materials expertise to create custom compounds to suite your application. Find out more about the materials at https://tcpoly.com/products/filaments/. Beside supplying materials, TCPoly's team of thermal engineers also provide thermal design and printing services and can work with you to optimize your parts for thermal performance and 3D printing production. Please reach out to info@tcpoly.com to contact the TCPoly team to help solve your thermal challenges.