The global data center market is expected to reach revenues of about $174 billion by 2023, according to experts' forecasts (source: Data Center Market – Global Outlook and Forecast 2018-2023). The fast-paced growth of Deep Learning, Machine Learning, IoT, Smart City, AI, and Blockchain is responsible for the rapid expansion witnessed by data centers and High-Performance Computing (HPC). These new trends require the processing of large quantities of data and that translates into a necessity for greater computational capacity. The result, in turn, is greater consumption of energy, making data centers less than a "green" industry.
Data centers and cloud providers consume 6% of global electricity (more, for example, than India) and generate 4% of the global CO2 emissions (more than twice that of commercial air travel). By 2025, it is estimated they will consume 20% of global electricity.
With these figures in mind, data centers need to rethink their strategy, to become smarter, more efficient and sustainable (the fourth most pressing concern of today data centers along with energy efficiency, operating costs, and security).
What can be done?
From the perspective of thermal management, one solution is liquid submersion cooling. This is the practice of submerging computer components (or full servers) in a thermally, but not electrically, conductive liquid (dielectric coolant).
This method is becoming popular with innovative data centers the world over. IT hardware or servers cooled in this manner don't require fans and the heat exchange between the warm coolant and cool water circuit usually occurs through a heat exchanger (i.e., heater core or radiator).
The liquid used must have sufficiently low electrical conductivity not to interfere with the normal operation of the computer. If the liquid is somewhat electrically conductive, it may be necessary to insulate certain parts of components susceptible to electromagnetic interference, such as the CPU. For these reasons, it is preferred that the liquid be dielectric.
 SmartPod: An Eco-friendly Immersion Cooling Solution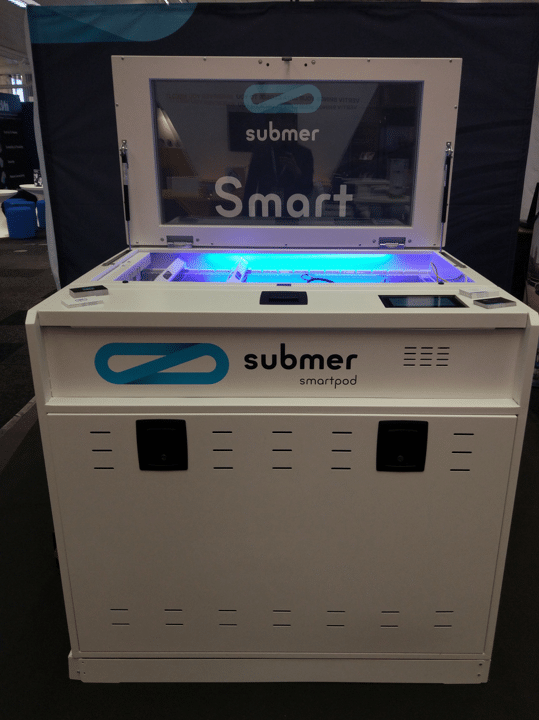 SmartPod is Submer's Immersion Cooling solution. It has been designed for any IT infrastructure, hardware, and application: HPC, hyperscalers, datacenters, Edge, AI, deep learning, blockchain, etc.
SmartPod is basically a horizontal rack hosting 22 or 45 units, submerged into a tank filled with SmartCoolant (a dielectric, proprietary, synthetic fluid totally bio-degradable and non-toxic). This configuration and the SmartCoolant allow SmartPod to:
Reach IT Hardware densities (>100kW per rack footprint).
Dissipate the heat produced by the IT hardware without environment temperature leaps (so, to answer one of the most common questions and concerns, the liquid is NOT water!)
Protect the IT Hardware, the most valuable asset in a data center, and prolonging its lifespan (in the figure below you can see how the heat is dissipated away from the servers).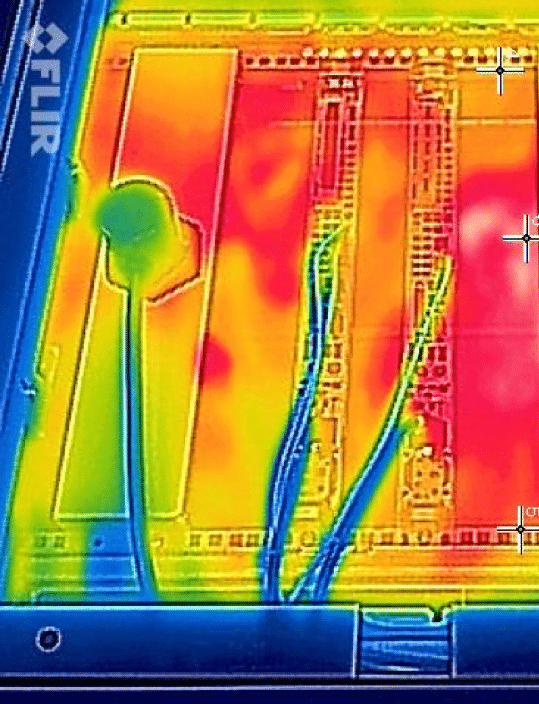 Being a LIC (Liquid Immersion Cooling) technology, there is no need to move any air to cool the servers. And the sealed and clean environment of the SmartPod allows users to deploy the technology everywhere, getting a certified PUE <1.03 (anywhere in the world, no matter the climate conditions).
Other features include:
A modular, compact design that allows assembly and combination of more units in any configuration.
The dielectric fluid (SmartCoolant) has a long lifecycle that is completely biodegradable and non-hazardous for people and the environment.
It can save between 95% and 99% of cooling costs (representing 50% of the electricity bill) as well as saving 85% of physical space.
Is easily deployed indoors or outdoors with minimum functional requirements and no need for a raised floor. Being a LIC (Liquid Immersion Cooling) technology, there is no need to move any air to cool the servers. And the sealed and clean environment of the SmartPod allows users to deploy the technology everywhere, getting a certified PUE <1.03 (anywhere in the world, no matter the climate conditions).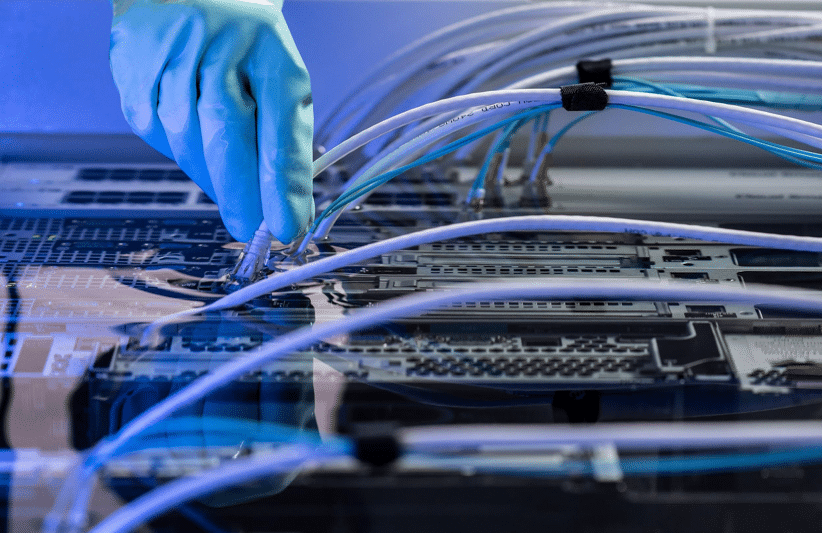 Introducing SmartPodX
Submer's latest addition to its SmartPod lineup is the SmartPodX. It has all the advantages of the SmartPod, plus two significant innovations that will improve the Immersion Cooling experience and set the stage for automated systems, self-healing data centers, and the new age of edge and remote computing environments:
"Cool-swap" technology: The SmartPodX is the first Immersion Cooling system to place the Cooling Distribution Unit (CDU) inside the fluid as a modular component. This is important because the CDU becomes quickly replaceable if needed without interrupting the servers at all.
Smart Lift runs on a dedicated rail system along the front of the entire SmartPod installation — allowing engineers and techs to easily access computers and servers for replacement or maintenance. It also works with the innovative CDU.
The SmartPodX has been built to comply with Open Compute Project (OCP) specifications for High-Performance Computing (supercomputers) and Hyperscale environments:
It has a SmartPower system: a dedicated bus-bar for plug-and-play power supply.
It accommodates the OCP-compliant 21" devices, and also the standard 19" servers used in many commercial datacenters.
Among other things, these innovations will take compute densities and extreme power efficiencies to a broader market and allow for the creation of the world's first Green Supercomputers.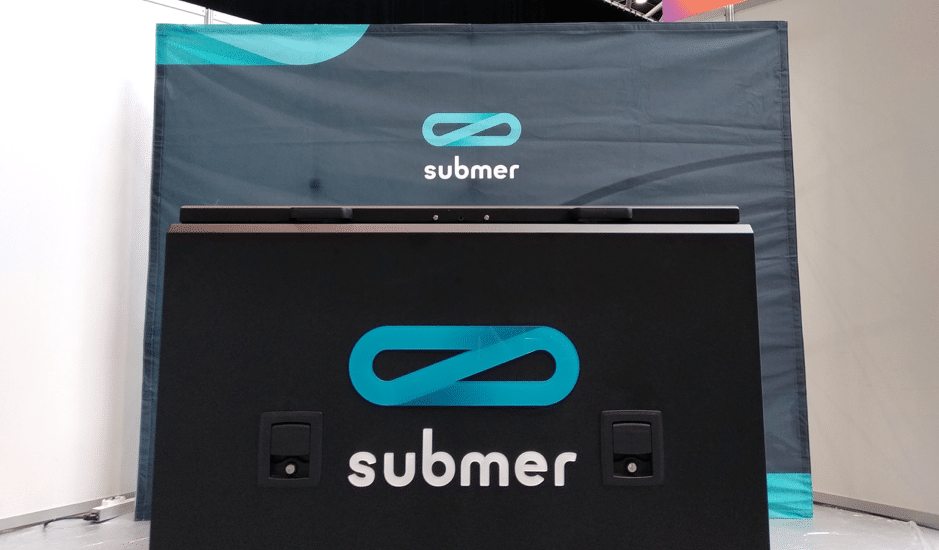 About the Company
Submer Technologies was founded In 2015 by Daniel Pope and Pol Valls. The creation of the company with offices, an R&D lab and a manufacturing plant located in Barcelona, Spain answered a precise intuition and need: cooling is the single biggest challenge for datacenters, Supercomputer applications, and Hyperscale deployments. Pol and Daniel had the dream to make operating and constructing data centers more eco-friendly and so they assembled a multi-disciplined team bringing together skills and experience in data center operations, thermal engineering, HW & SW development, service delivery, innovation management, design, marketing, and communications. In 2018, Submer came out of R&D and brought the SmartPod Immersion Cooling system to market. In 2019, Submer has further expanded its market scope with deployments all over the world.