Aluminum Oxide (Al2O3) is an important ceramic for the electronics industry. Besides its use as a passivation layer on Silicon, the ceramic is often used as a carrier for thick and thin film passive components and for other small printed circuit boards. A relatively low cost is combined with a relatively high thermal conductivity, especially when compared to FR4 board material. Other ceramics such as Beryllium Oxide and Aluminum Nitride feature a much higher conductivity, but at a much higher price. Hence, the thermal conductivity of Al2O3 is of much interest to a designer. However, a word of caution should be issued. The use of values taken from some general list which often accompanies popular articles on electronics cooling is not recommended. The reason becomes clear when taking a closer look at the graph, showing the thermal conductivity as a function of temperature, with the impurity of the ceramic as a parameter. It is obvious that the values are highly sensitive to both temperature and impurity level, making the representation by one value only very doubtful.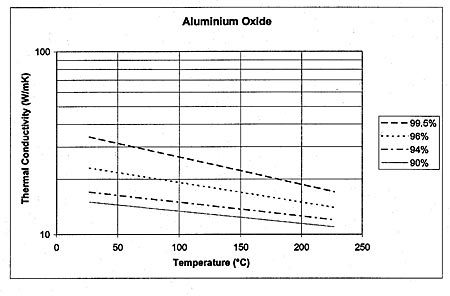 Oettinger, Solid State Technology, Feb. 1984
In other words, it pays to trace the source of your Al2O3, and also to use a temperature-dependent relationship if the software allows such. If the software doesn't, take the value at the estimated operating temperature, never at the room temperature value which is most often quoted in the 'Most Important Electronic Material Thermal Data for Electronic Designers' survey table.