Melting-While-Cooling Silicon Could Improve Solar Cells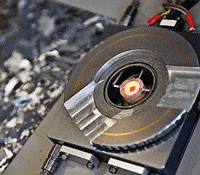 Researchers at the Massachusetts Institute of Technology (MIT) have recently discovered that by dissolving certain metals into silicon, they can add that silicon compound to the relatively short list of exotic substances that exhibit retrograde melting. Their accomplishment could ultimately result in less expensive solar cells and electronic devices.
The team started by creating a "sandwich", made from two thin sheets of silicon on the outside, and a mixture of copper, iron and nickel between them. This was heated to a point that was below the normal melting point of silicon, but high enough to cause the filling to dissolve, thus causing the silicon to become supersaturated with the metals.
This means manufacturers could use less pure, less expensive grades of silicon for items such as solar cells or electronics, and purify them in the production process, the MIT team says.
—  Source: MIT
Nanowick at Heart of New System To Cool 'Power Electronics'
Researchers have shown that an advanced cooling technology being developed for high-power electronics in military and automotive systems is capable of handling roughly 10 times the heat generated by conventional computer chips, according to a research paper appearing online in the International Journal of Heat and Mass Transfer. Written by mechanical engineering doctoral student Justin Weibel, Garimella and Mark North, an engineer with Thermacore, the paper will be published in the journal's September issue.
The miniature, lightweight device uses tiny copper spheres and carbon nanotubes to passively wick a coolant toward hot electronics.
This wicking technology represents the heart of a new ultrathin "thermal ground plane," a flat, hollow plate containing water.
—  Source: Eurekalert
Interest in LEDs Grows as Historic Bridge, Cities Get Funding
Built in 1872 and listed on the National Register of Historic Places, the West Dummerston covered bridge in Dummerston, Vt., had been lit by high-pressure-sodium (HPS) lights until they were replaced recently by Philips Gardco LED luminaires. According to the Building Green blog, local resident, electrician and regular bridge-crosser Stan Howe led a movement to have the HPS lights replaced by LED luminaires. A photosensor automatically controls the lights on the 267-foot span, and motion sensors can dim the lights when no automobiles are present.
Meanwhile, the Massachusetts Department of Energy Resources (DOER) has awarded the city of Easthampton $174,985 for an LED streetlight project; the city of Gothenburg, Neb. is receiving a $206,080 grant for LED streetlights from the Nebraska Energy Office; and New Streetlights reported that Berwick, Nova Scotia, Canada has received CAN $101,573 to replace 234 mercury vapor and HPS lights with LEDs lights.
—  Source: LED Magazine
Sony Recalls VAIO Laptop Computers Due to Burn Hazard
Sony Electronics Inc. has announced a recall of about 233,000 Sony VAIO 233000 notebook computers after it received 30 reports of the deformed keyboards and casing owing to overheating. This overheating poses a burn hazard in case the heated affected part is touched. None of the 30 reports indicated of any injuries as a result of this overheating. The overheating is caused by the malfunction of internal cooling system and protection circuits.