Editor's Forward:
The ITEM Media team has launched our brand new Electronics Cooling website today! Take a look around – the new layout is responsive with easier navigation and encourages user interaction, with many new features still to come! We are very interested in your feedback, so please use the form below this week's blog post to log in and post your comments!
Electronics Cooling is pleased to bring you another new feature to our portal – starting with this edition we will feature articles on recently issued patents and pending applications along with our usual technical articles, calculation tips, book reviews, component sources and selection guides. We hope you will find Electronics Cooling an indispensable resource for all your professional needs in electronics thermal management.
Today, we will review a patent application on the apparatus and method for integrated heat sink and electromagnetic interference (EMI) shield assembly. The patent application US20160227673 deals with what is increasingly becoming a necessity for heat sinks in addition to their primary function of thermal management. The patent says that metal and metal-filled composite heat sinks can also function as EMI shields with proper termination to the ground plane. Complemented by 3D printing and additive manufacturing methods, engineers now have more tools at their disposal to innovate solutions that reduce form factors and cost while maximizing efficiency.
The approach for achieving two goals (for example heat sinking and overmolding the chip) in one process is nothing new. Yours truly applied for a patent on "Area array packages with overmolded pin-fin heat sinks" in 2004 but it was subsequently abandoned. It is now treated as prior art since the application was published!
The dual approach to use heat sinks as EMI suppressors dates back to the 1990's. There are many issued patents that claim various aspects of integrating EMI filters and heat sinks. US patents 5,030,793 (1991), 6,219,239 (2001), 6,385,048 (2002), 6,401,805 (2002), 6,433,420 (2002), 6,580,028 (2003), 6,819,572 (2004), 7,262,369 (2007), 7,880,282 (2011), are some among a partial list I encourage you to review (PAT2PDF is one source where the patents can be downloaded in PDF format).
The patent application discussed here, US 20160227673, presents an approach to mold together a heat sink and an  EMI shield with an intervening non-electrically conductive layer between the two. The approach also allows for using other materials like elastomers to be molded to a thermally conductive layer. This combination provides conforming contours for maximizing thermal transfer. The inventors claim that the number of steps and the amount of materials required for thermal dissipation and EMI protection can be potentially reduced. The figure below shows one depiction of the invention.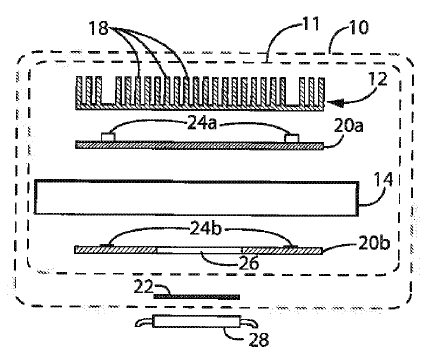 In the above figure, 28 represents the electrical component, 11 represents the integrated molded unit which consists of heat dissipating elements (18), integrated system (10), heat sink (12), and EMI shield (14), 20a and 20b are thermally-conductive polymer layers, 22 is the elastomer layer, and 26 represents a cavity for forming the elastomer layer 22.
One of the independent claims of the patent application is the integrated heat sink and EMI shield assembly where the EMI shield is molded to the heat sink to form an integrated molded unit with a thermally conductive polymer layer between the heat sink and the EMI shield. The accommodation of elastomeric material strengthens the claim.
The novelty of this invention when compared to the prior art cited in foregoing paragraphs appears to be centered on a process that accommodates molding both electrically conductive and non-conductive layers as required to form an integrated solution. The invention therefore is an improvement of the manufacturing process to produce integrated heat sinks with EMI shields.
MP Divakar, PhD, Stack Design Automation
Technical Editor, Electronics Cooling