In Part 1 (Thermal Management of Outdoor Enclosures), key aspects for successful design and development of thermal management systems were covered briefly, among these, cooling device selection and its impact on power, battery back-up and maintenance has therefore become of paramount importance for telecommunications enclosures.  These are: Full active systems, like air conditioners, require AC power, are impossible to back-up efficiently and require lots of maintenance.  Assisted systems, like air-to-air heat exchangers run off DC power, can be backed up and typically demonstrate a longer maintenance interval.  Passive systems on the other hand require no power and are maintenance free.  Selection of the proper cooling system is therefore extremely important.
This part will focus on closed loop active cooling units available to the thermal telecom engineer when designing the thermal management system for a new indoor/outdoor enclosure.  By closed loop is meant a unit, a system, in which the conditioned air is never exchanged with the outside, thereby forming a closed loop where enclosure air is brought to the cooling device and heat is then exchanged indirectly with the outside.  Figure 1 shows a typical cabinet with a closed-loop cooling unit where the air paths are indicated. Each closed loop cooling system (air-conditioners, heat exchangers, thermoelectric coolers and phase-change-material heat exchangers) is described in some detail below.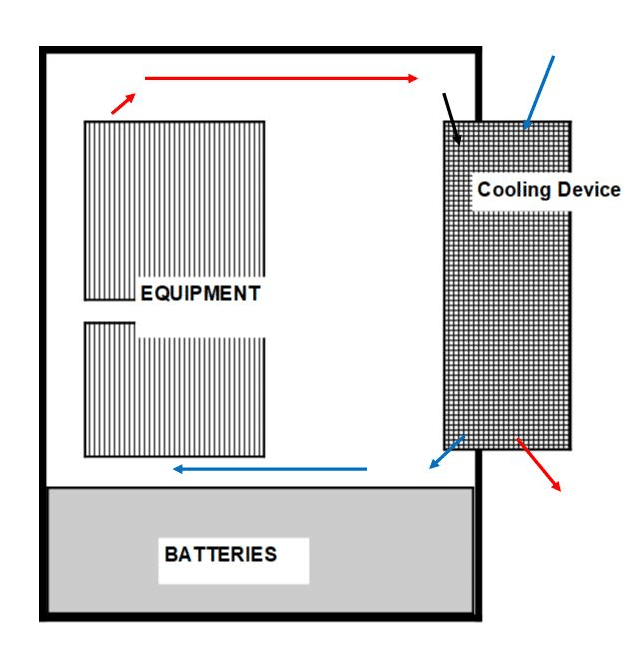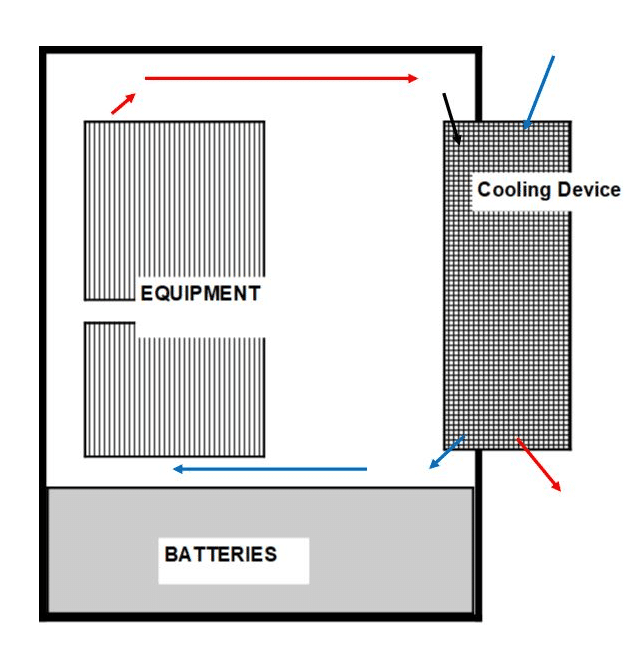 Figure 1 Typical Outdoor Enclosure with Key Components
Calculation of the cooling (or heating) load is the first step in the thermal design of any enclosure. After the cooling load, and therefore, cooling capacity is known then matching with the proper cooling system may proceed.  Although cooling load is important, what determines which system to install is primarily the temperature difference between the design internal temperature and the maximum ambient temperature, (Tenclosure – Tambient); and, secondarily, the ability of the system to be battery backed-up.
Active Cooling Systems: Air-Conditioners (Refrigerators)
Air conditioners are a class of refrigerators that use a vapor-compression thermodynamic cycle, i.e. it utilizes the phase change of a working fluid to extract energy or heat from a controlled space and reject it to the ambient or surroundings.  This process requires energy to be accomplished.  For today's air conditioners, 1 W of energy is needed to extract about 3 W of cooling.  There are three major reasons for using an air conditioner to cool a cabinet:  a) to maintain the temperature of the cabinet lower than that outside, b) to maintain a level of relative humidity lower than that outside, and, lastly, c) to remove large cooling loads (larger than a heat exchanger would otherwise be able to handle). Refrigerators are mechanical devices that require energy input in order to perform. An air conditioner used for telecommunications system typically includes:  a) A/C compressor, b) condenser, c) evaporator (cooling coils) and d) an expansion device or needle valve. Air Conditioning (or refrigeration) systems can be open loop or closed loop systems.  In open loop systems the fluid from the space to be conditioned is the working fluid.  In closed loop systems a working fluid such as a fluorocarbon is used and the air in the conditioned space is cooled indirectly through the heat exchangers.  As mentioned above, an air conditioner requires energy input to remove heat from the conditioned space (this is required because naturally heat would flow from higher to lower temperature regions; otherwise it would be a violation of the second law of thermodynamics.) Thus, the total power required will be:
Workcompressor  =  Qcondenser – Qevaporator
where Qevaporator is the amount of heat removed from the conditioned space (which is the cooling load calculated above) and Qcondenser is the amount of heat that must be transferred to the surroundings (outside air).  For refrigeration systems, the Coefficient of Performance (COP) is used as indicator for how efficient a system is; and it is defined as:
COP = Qevaporator / Workcompressor =  Refrigeration Effect
An interesting feature of COP is that it is not an efficiency, its value can range from 0 to infinity.  Typical air conditioner units installed in telecommunication enclosures (either indoor or outdoor) have COP's ranging from 2.5 to 3.5.  In other words, one gets 2.5-3.5 units of cooling (Watts) per each unit of work (Watt) put into the compressor.
Selecting an air conditioner (and other cooling units) requires taking into consideration the following criteria:  1) Cooling load requirements, 2) Temperature requirements, 3) Humidity requirements, 4) Spatial Requirements, 5) First costs, 6) Operating Costs, 7) Reliability and ability to be battery backed up (if possible), 8) Flexibility, and 9) Maintainability
Active Systems: Thermoelectric Coolers
In 1822 Seebeck conducted experiments in which, if a closed circuit were made of two dissimilar metals, an electric current flowed in the circuit if the two metals were kept at different temperatures. Later, in 1834, Peltier witnessed the reverse effects.  He observed that if a closed circuit were made of two dissimilar materials and a current was made to flow through the circuit, heat was either absorbed or given off.  The former is called the Seebeck effect and the latter the Peltier effect.
A complete circuit, called a thermoelectric couple, consists of two dissimilar thermoelectric materials.  Nowadays thermoelectric materials are made of semiconductor materials and may be considered as heat pumps, since heat is transported from the cold junction to the hot junction as a function of the input DC current.  There are several manufacturers of thermoelectric in the world and the use of thermoelectric coolers is growing at a good rate due to its low cost.
Similar to a mechanical air conditioner, thermoelectric coolers require energy input to remove heat from the conditioned space (this is required because naturally heat would flow from higher to lower temperature regions; otherwise it would be a violation of the second law of thermodynamics.) A thermoelectric cooler is classified as active because it need external power to function.For refrigeration systems, the Coefficient of Performance (COP) is used as indicator for how efficient a system is, defined as:
COP = Qremoved/ E DC-Power =  Refrigeration Effect
The main advantage of thermoelectric cooler is the fact that there are no moving parts for producing cold, therefore making them very reliable. Furthermore, they are low cost, low weight, intrinsically safe and provide accurate temperature control. However, since these units only transport energy from the cold to hot side, one must design heat sinks and/or fans to remove the heat away from the unit (thereby adding complexity and cost to the cooling assembly).  However, for many telecommunication applications, the many advantages of thermoelectric cooling cannot outweigh the main disadvantage of very low coefficient of performance (COP); therefore, designers must use them sparingly.