by MP Divakar, PhD, Stack Design Automation
Technical Editor, Electronics Cooling Online
Our annual online conference "Thermal Live! 2016" starts next week on the 4th of October and concludes on the 5th. These all day FREE webinars by well-known industry experts representing various thermal management solution providers are "must attend" events for designers and engineers alike. This year, Electronics Cooling has put together a broad selection of topics addressing traditional solutions for thermal management in various applications as well as emerging areas of electronics cooling, for example, printed electronics for touch screen products and wearables. The technical program listing can be found here. While perusing this page, don't forget to register for the sessions that interest you –I highly recommend registering for all!
The conference starts with a presentation by Ansys on "Simulation for Printed Circuit Board Design Reliability", a presentation emphasizing the use of simulation as a design tool to insure design for reliability. The webinar will review the state-of-the-art simulation techniques to analyze power and signal integrity, predict thermal performance, and overcome thermal stress, opening the door to reliable PCB designs at minimal cost and time to market.
Autodesk will be presenting some results from the Ember 3D Printer for thermal management solutions. There is no denying the fact that 3D printing makes it possible to produce complex shapes of heatsink geometries at a very small fraction of the cost it takes to fabricate by traditional machining / metal casting approaches, that too if at all possible. A good example is the fractal heatsink concepts originally developed by Prof. Deborah Pence and her research group at Oregon State University (see this reference). It is quite common these days to see the fractal branching-type heatsinks on LED luminaires for passive cooling.
Celsia will present an exhaustive talk on Heat Pipes & Vapor Chambers – Useful Guidelines for Heat Sink Implementation. The presentation starts with the basic questions a designer must pose and seek answers to (see figure 1 below) when designing a liquid cooling thermal solution.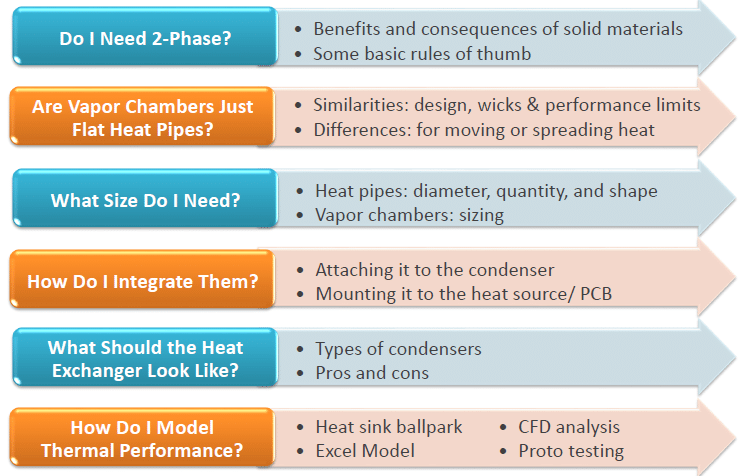 Henkel will be presenting information on a novel thermally conductive material that can be overmolded under low pressure for thermal management. Designers and engineers can learn the advantages of using Technomelt TC50 and other materials in the roadmap that address dual use applications for thermal management and overmolding of electronic assemblies. As shown in the figure below, Technomelt and similar materials from Henkel can also be used as profile- / contour-following fillers for electronic assemblies, eliminating the need for enclosures and housings.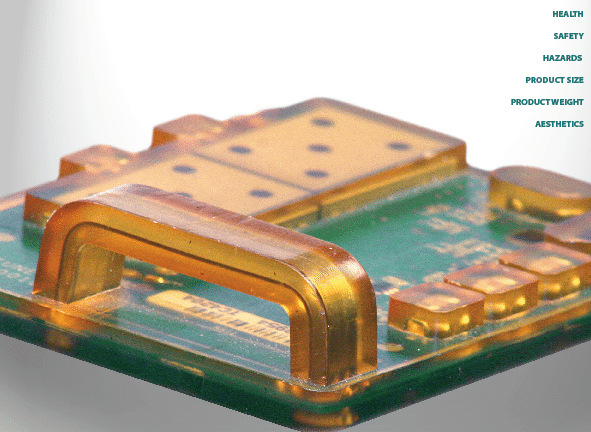 Mentor Graphics will be presenting methodologies for automated thermal model calibration for dynamic environments where over-designing or under-designing thermal management solutions can result in cost overruns or catastrophes, respectively.
UICO will be presenting a printed electronics process-based manufacturing methodology to realize touch screen solutions that operate under normal range as well as extreme temperatures. Many capacitive touch screens stop responding to touch under high temperatures –a serious deficiency for many use case scenarios with wearables in outdoor environments, industrial applications, fire fighting, etc. To provide a reliable experience, capacitive touch must work in all ranges of temperatures including some extremes. In the presentation, UICO will discuss the real challenges including thermal for touch capability in the wearables products ecosystem, why it is difficult to solve these challenges and provide examples of cutting edge solutions.
Aavid Thermal will present a complete system-level approach to designing a liquid cooled system by considering its components such as the pumps, heat exchangers, control instrumentation, quick disconnects, fittings, and tubing; all of which require careful planning and engineering. The presentation and discussion offer insights on how to plan and engineer a robust, reliable, and affordable liquid installation by optimizing both the subcomponents and the system as a whole.
Phononic will present on the application characteristics in which thermoelectric devices excel and are warranted as the best solution for thermal management. The presentation also addresses application types where using thermoelectric heat pumps in the heat transfer system can unlock previously unattainable performance or features.
DuraTOUCH will present on touch technology in today's wearable devices manufactured using Printed Electronics processes. They will discuss the real challenges including thermal for touch capability in the wearables products ecosystem, why it is difficult to solve these challenges and provide examples of cutting edge solutions.
6SigmaET will present aerospace electronics simulation examples addressing challenges faced by avionics designers, and how 6SigmaET addresses these with an ATR chassis case study.
Lastly, Wakefield-Vette will educate the audience on the various manufacturing methods for fabricating thermal management solutions. The discussion will provide more information on the method used as well as its pro and cons.
Registration for Thermal Live! 2016 is absolutely free. Take advantage of this unique opportunity to network with industry professionals, catch up with the latest developments in technology of an increasingly complex thermal management world the professionals negotiate these days –all without ever leaving your desk!