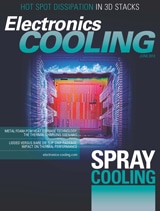 Don't miss out on the June 2012  issue of Electronics Cooling, which includes  feature articles on hot spot dissipation, spray cooling , metal foam-PCM heat storage technology, and much more.
If you would like to receive your free copy of Electronics Cooling click here to subscribe.
Read the June 2012 issue here.