Editor's Note: This is the 2nd of a two-part summary from SEMI-THERM 33. Click here for Part 1.
SEMI-THERM 33 concluded last week at Silicon Valley, CA and Electronics Cooling was the only media and content provider present on the exhibit floor. We take this opportunity to thank our readers and contributors who stopped by our booth to learn about our plans for this year including 2017 Thermal Live! We are so pleased to know that many of you like our content, our new webpage, and our emphasis on covering thermal management across multiple disciplines.
SEMI-THERM this year featured many interesting companies showcasing their latest in thermal management solutions –to that extent that I barely managed to attend a couple of technical sessions! Most of my time was spent talking to the solutions providers of thermal management on the exhibit floor. Some of the highlights in the latest product and technology offerings include:
Continued improvements in Thermal Interface Materials (TIM) –in thermal conductivity, thinner gap-filling and conforming materials.
Test equipment for characterization of TIMs.
Excellent advances in higher thermal conductivity materials for enclosures, carriers, substrates and heatsinks –Aluminum with Graphite, Chemical Vapor Deposited (CVD) Diamond, Carbon composites, etc.
More improvements in user-friendly and better EDA-integrated thermal simulation tools.
Continued advances in heatsinks –in form factor, materials, fabrication methods and integrated cooling fans.
Advances in liquid cooling including thermal siphon, better quality and lightweight couplings, no-leak quick disconnects, etc.
For those of you who did not make it to SEMI-THERM this year, we requested all exhibitors to provide an update on their latest technology and product offerings showcased at SEMI-THERM. In the following paragraphs, you will find brief descriptions of the latest products from thermal management solution providers.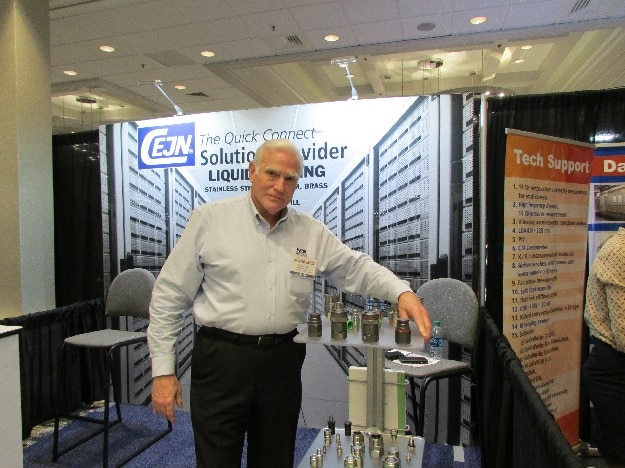 CEJN Industrial Corporation showed its latest products in quick connect/disconnect coupling for liquid cooling. Fluid products must be leak free, able to quickly connect and disconnect, able to withstand the transferred media and to endure the operating conditions to which they are subjected. CEJN's Fluid products encompass all of these necessities. CEJN's fluid couplers and nipples are available in valved and valve-less designs for low- and medium- pressure applications. Presented at SEMI-THERM are fluid couplings and nipples, hoses and hose kits for fluid applications.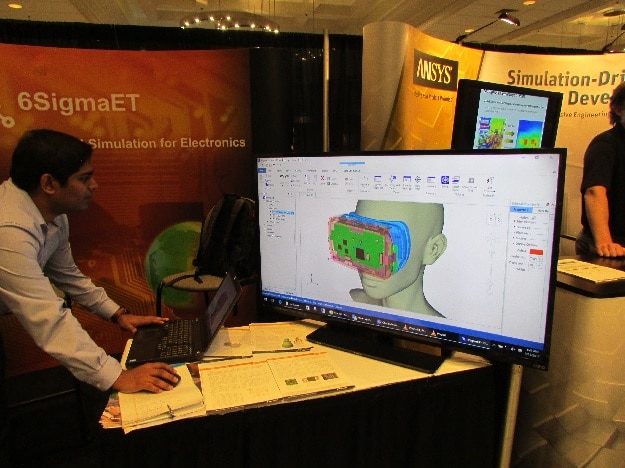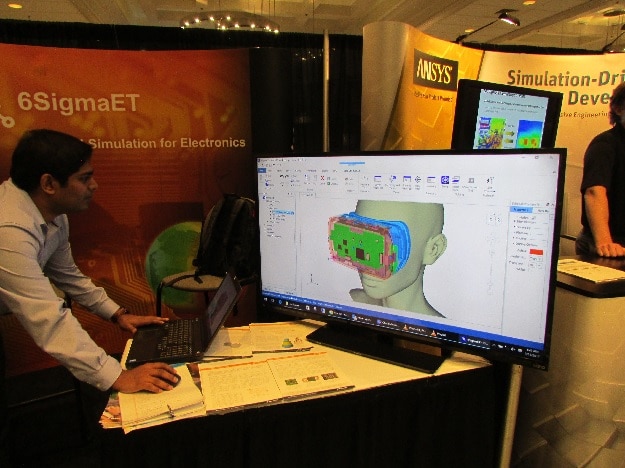 Future Facilities highlighted the eleventh iteration of its leading thermal simulation software, 6SigmaET software for thermal management of electronics. The new edition includes an updated user interface designed for greater speed and accessibility, as well as an increase in the maximum resolution – allowing users to solve models up to 700 million grid cells. In addition to improved gridding capabilities, 6SigmaET has also announced a new Double Precision Solver function, designed to improve the calculation of the temperature residual to solve models in significantly fewer iterations.
The renewed focus on speed and solve time comes following independent research from Thales Global Services, which highlighted that 6SigmaET's meshing time is up to 41x faster than its nearest competitor, with model convergence being reached 2.7x faster in an equivalent design. 6sigmaET has also improved its integration with the Rescale cloud platform. Within Release 11, users can now send models to Rescale for solving, monitor progress and retrieve results directly from the 6SigmaET user interface. They can also now use a client PC to submit and retrieve 6SigmaET jobs from a CFD server on a high-performance-computing cluster in the cloud.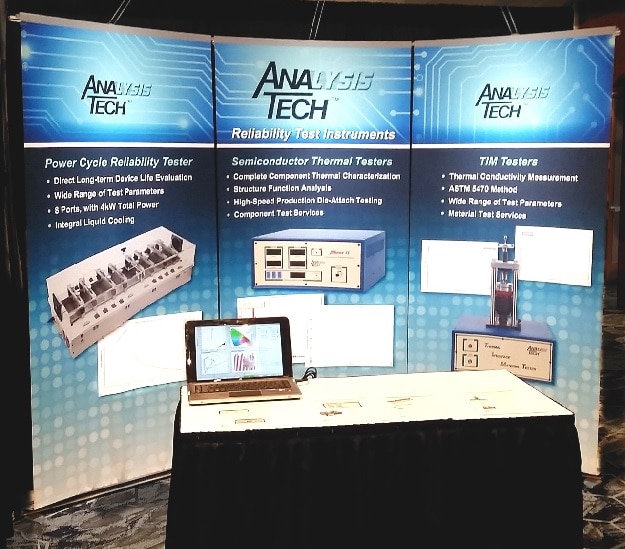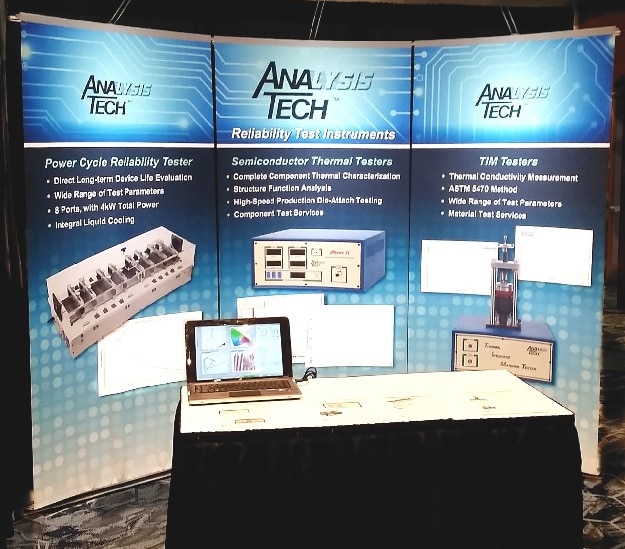 Analysis Tech exhibited its complete product line of semiconductor thermal test equipment for performing device thermal characterizations, transient thermal analysis, and production die-attach and surge testing on any type of semiconductor device. The newly introduced Power Cycler is capable of evaluating power semiconductor device reliability directly with long-term cyclic heating waveforms while continuously monitoring for device degradation.Such testing is quickly becoming essential for power control modules being used in electric cars to wind generators. For material conductivity testing, the Analysis Tech TIM Testers offer precise TIM property measurements, suitable for laboratory or factory workplaces, in a physically robust and easy to use tester. Analysis Tech also offers the CTE Tester for measurement of thermal expansion in electronic packaging materials.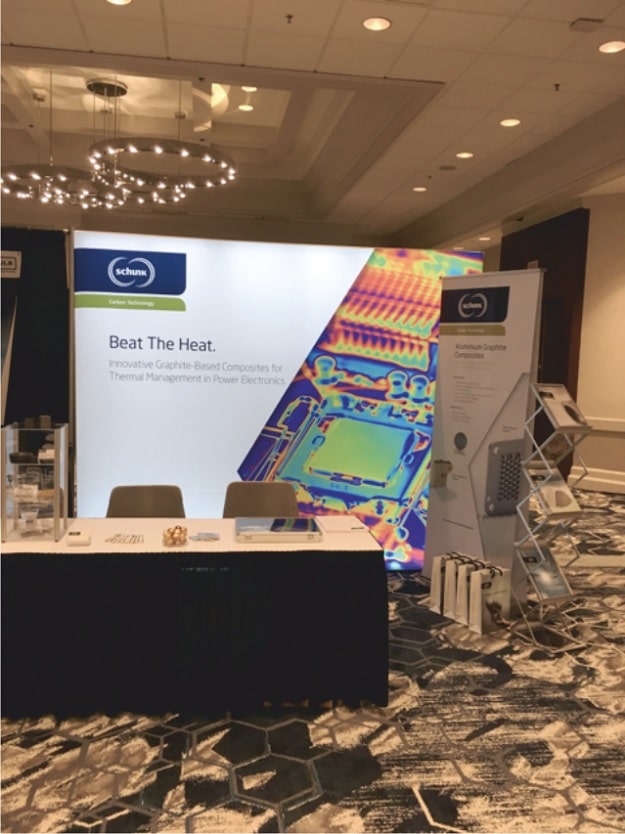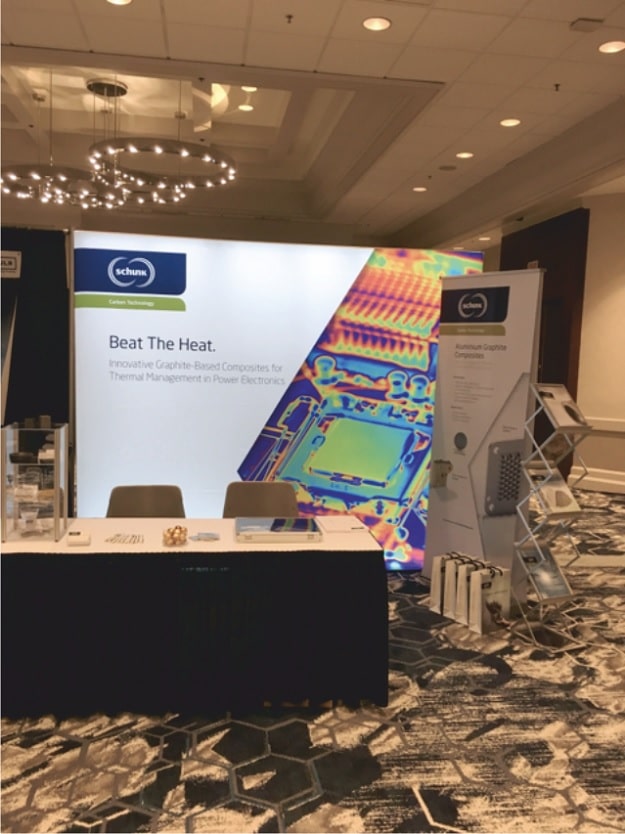 Schunk Hoffmann Carbon Technology showcased two graphite-based solutions for the electronics cooling industry, namely Aluminium Graphite and Latent Heat Carbon, at SEMI-THERM 33. Aluminium Graphite combines the low coefficient of thermal expansion, low density, and ready machinability of graphite with the excellent thermal properties of aluminium to create an ideal thermal management material for high-reliability applications. Customized parts, such as base plates or heat spreaders are readily produced with different platings.
Latent Heat Carbon is a novel approach to latent heat storage units. By using expanded graphite as a preform, a self-encapsulating material with a vastly improved thermal conductivity and low density is produced that enables the rapid buffering of temperature peaks during transient operation. In addition, the patented "Expand to Shape"production process allows for complex, custom designs at attractive cost.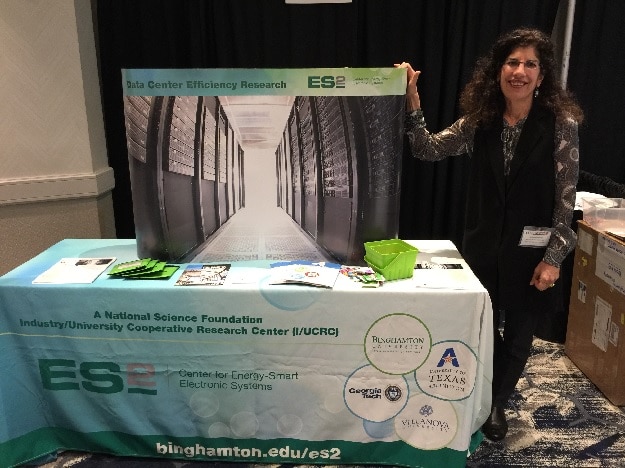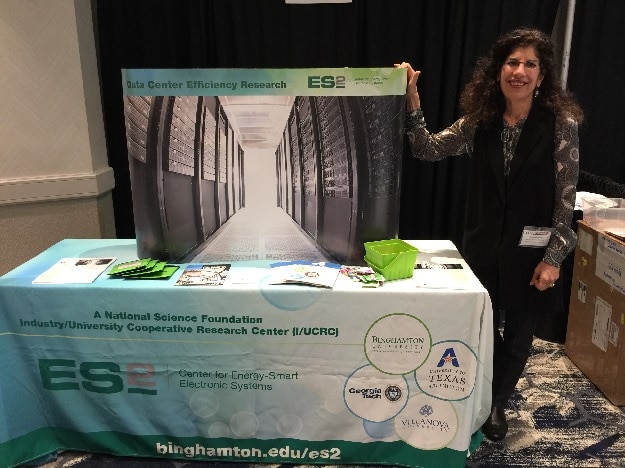 The NSF Industry/University Cooperative Research Center for Energy-Smart Electronic Systems (ES2) is collaboration among government, academia and industry to discover and provide industry-driven solutions and technologies to make data centers energy-efficient. ES2's grand vision is to enable cognitive approaches for realizing self-aware and self-managing electronic systems that optimize energy consumption at any specified performance, availability and reliability level. Our mission is to develop the foundations and multidisciplinary solutions to accomplish that vision. ES2 comprises four domestic university sites, one international site and over 20 industry members working on 15 unique research projects.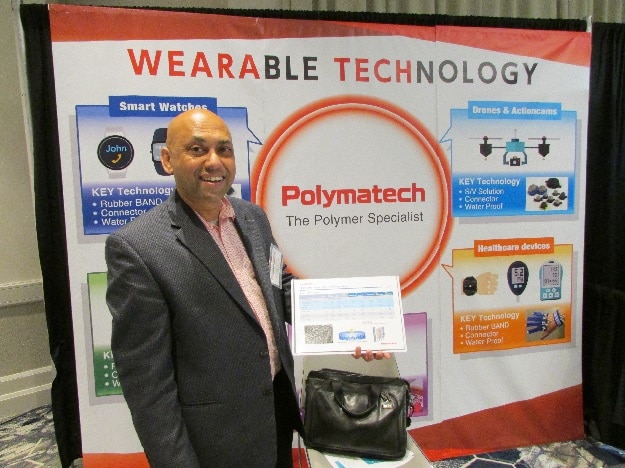 Polymatech showed its new industry-leading 50W/m-K thermal Sheet. As customer devices keep shrinking in size while the amount of heat generated is increasing, the higher conductivity sheets play a very important role in electronics thermal management. Polymatech thermal sheets offer a broad selection ranging from commodity-type low cost ones to specialty grades topping thermal conductivity at 50W/m-K. Polymatech also showcased its EMI shielding products, weather-proofing compounds and lower electric resistance and lower compression force connector choices.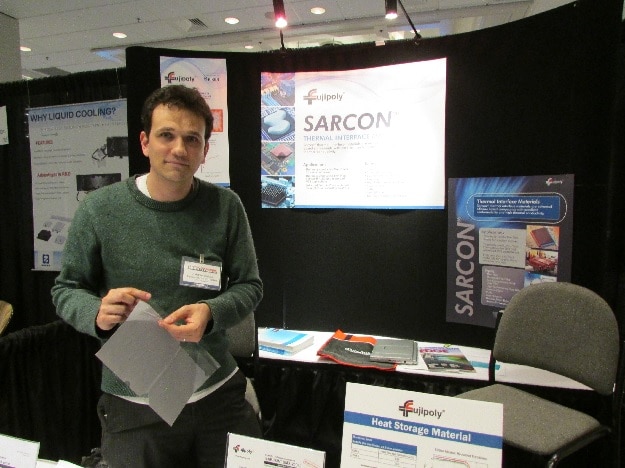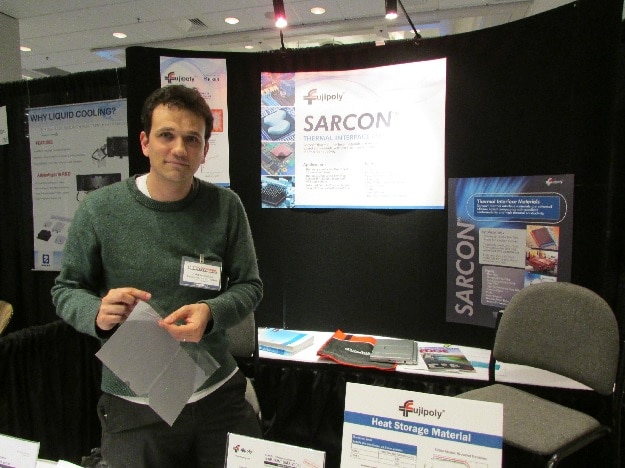 Fujipoly America Corporation is a world leader in the manufacture of Sarcon® Thermal Interface Materials, which are used to help keep sensitive electronic components cool by eliminating the air gap between the component and heat sink. Fujipoly products range in thermal conductivity from 1.0m W/m-K to 17 W/m-K, offering some of the lowest thermal resistance in the industry. Fujipoly product lineup consists of soft Gap Filler Pads, Conformable Putties, Form-In-Place Gap Fill Materials, as well as custom and standard die-cut thin film materials. Our wide range of material types, coupled with the widest range of thermal conductivity, allows us to meet most designcriteria. Fujipoly has nine locations in North America, Europe, and Asia making it easy for us to assist customers at the local level.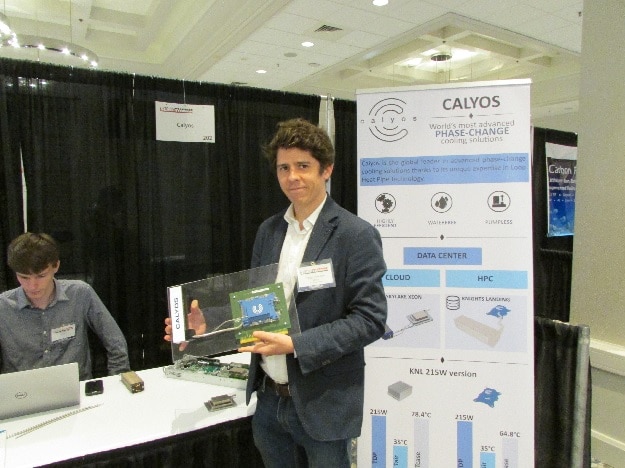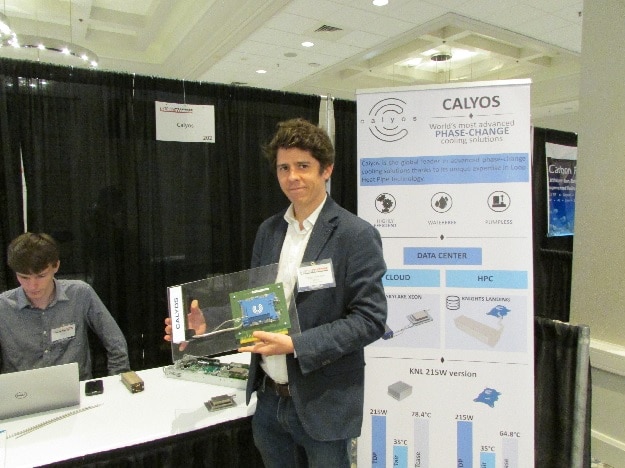 Calyos showed off its new evaporator block for higher compute power servers with and with out GPU augmentation. Calyos is a cooling solution provider specializing in the Loop Heat Pipe (LHP) technology. Thanks to its know-how and protected IP, Calyos positions itself as the world leader in LHP manufacturing. Deliveringhigh performing products, Calyos succeeded to address several industries with 2 product lines adapted to different ranges of power. For low power (10W-1000W), the company supplies cooling products for Data Center, Workstation/Desktop and LEDs. For high power (1000W-40KW), Calyos mainly addresses power converter manufacturers (Transports, Wind Turbines, Industrial Processes…).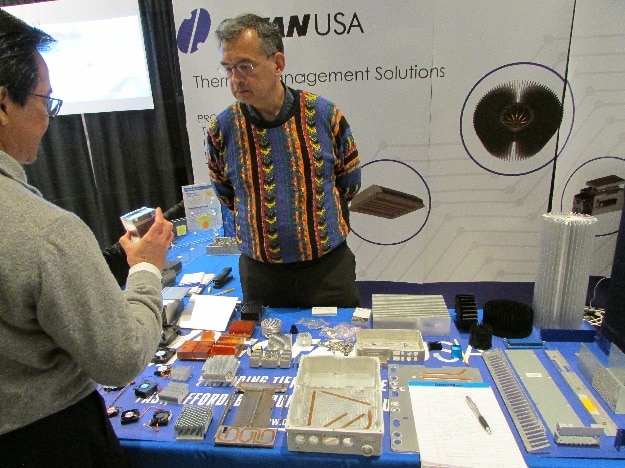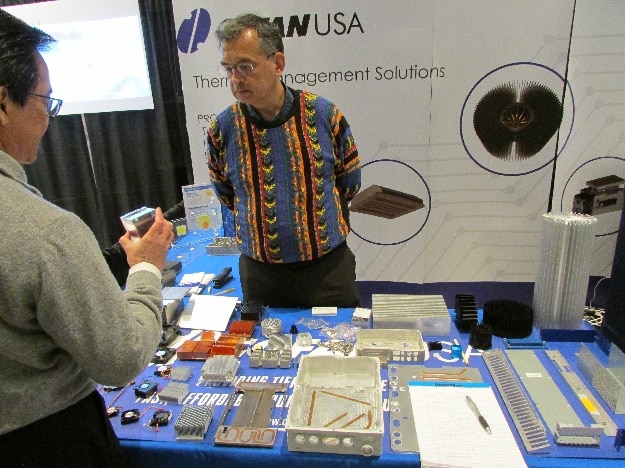 Cofan USA a 22-company in computer hardware manufacturing industry is a supplier of components, mechanical parts or complete assemblies. Cofan owns factories in China and Taiwan to offers best pricing, fast turnaround, and good quality. Cofan is a high mix low volume manufacturer supplying to telecommunications, electronic manufacturing services (EMS), data center and computer hardware companies. Cofan offers: AC & DC Fans, Heat Sinks, Heatpipes, Metal parts (machined, extruded, forged, stamped, die-cast), Plastics parts (machined, injection molded, pressure molded), Hardware (screws, PEMs, springs) and PCBs and MCPCBs.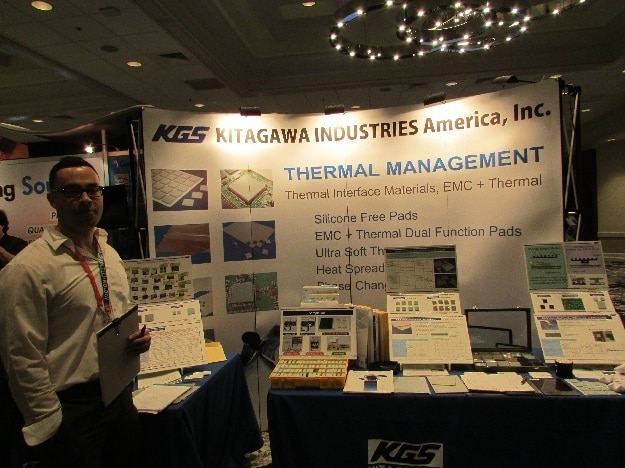 KITAGAWA INDUSTRIES America, Inc. is a global leading provider and manufacturer of EMI solution, thermal solution, and shock/vibration management products as well as plastic components. Our thermal solutions include Thermal Interface Materials (TIM) such as silicone and silicone-free pads, phase change gels, ultra-thin thermal films, and dual function materials. Our wide products varieties and custom-layered solutions can be engineered to meet very specific applications requirements. The newest items in our product line include our silicone-free, soft5W/m*K (CPSH series) and our silicone-free, dual-function absorber and thermal pad (EMPV4 series).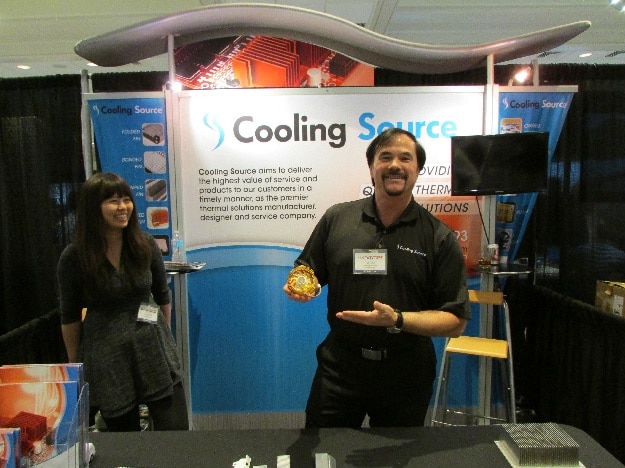 Cooling Source, Inc. is a heatsink manufacturer offering the most comprehensive value-added standardized or custom heatsink solutions for today's global market. Using the very latest technology available to heatsink manufacturers, we offer a wide range of products for our global market clients. Cooling Source's goal is to deliver the highest value to its customers as the premier heatsink manufacturer, offering standard or custom designed products, and services above and beyond what its customers expect. If a customer is unsure whether to use a standard or custom heat sink, allow Cooling Source experts will help to make the right decision for overall cost, tooling time, and delivery time.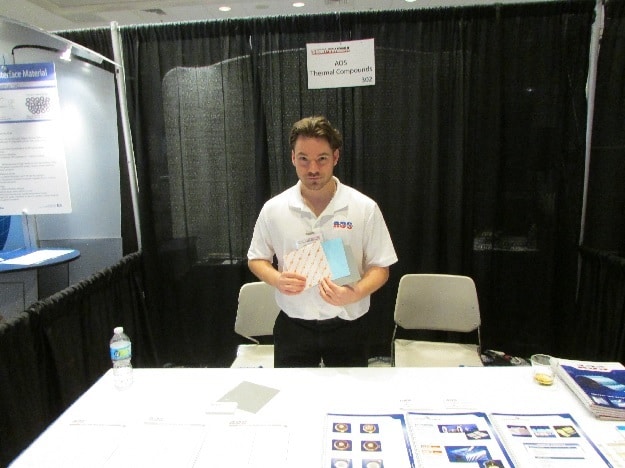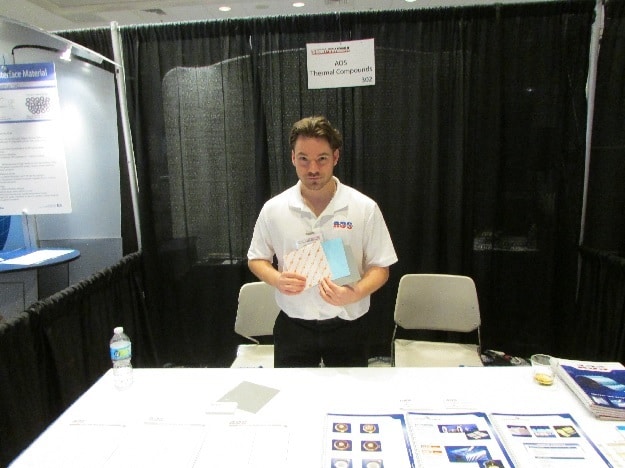 AOS Thermal Compounds manufactures the most durable non-silicone thermal interface materials including thermal greases, Sure-Form gap fillers and unique Micro-Faze thermal pads (not phase change material).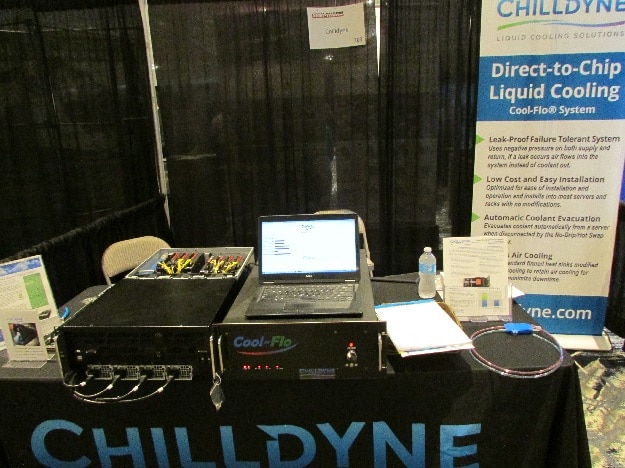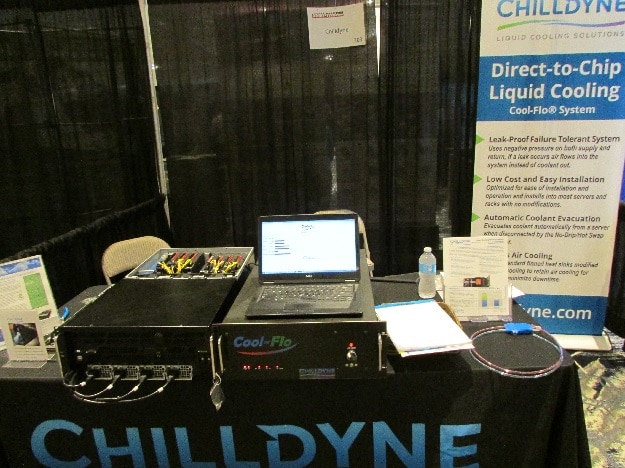 Chilldyne Inc showcased its direct-to-chip liquid cooling demonstration system. The Cool-Flo® system offers all the benefits of liquid cooling without reducing uptime and with no worries about leaks. The system utilizes hybrid air-and-liquid-cooled heat sinks and negative pressure to deliver a zero-downtime, leak-proof, low-cost solution. Attendees had the opportunity to participate in the "cut-the-line" product demonstration where they could completely sever a cooling line over an Intel dual xenon server blade without causing any damage to the blade. The system uses negative pressure on both supply and return, therefore if a leak occurs air flows into the system instead of coolant out. The No-Drip/Hot Swap connector which automatically evacuates coolant from a server when disconnected, was also on display. The Chilldyne system is optimized for ease of installation and operation so that all the rack and server level connections do not require a plumber. The system installs into most servers and racks with no modifications making the switch to modern liquid cooling an easy decision.
LISAT is a manufacturer of Thermal Interface Material & EMI products. With HQ in U.S., LISAT has operations in Asia. In U.S., provides Thermal Management Solution to customers & work with R&D Engineers at Design Centres. We provide technical support & samples to our customers to test our materials. LISAT's Asia operations provide manufacturing, converting, technical & sales to customers' worldwide. LISAT products are TIM Pad, Insulator, Silicon Free TIM, Gel, Grease, Mylar, Graphite, Conductive Plastic, Conductive Elastomer, Fabric-Over-Foam, Microwave Absorbing Material, Metal Finger Stock, EMI Shielding Solution, Switching Power Supply, Desktop & Wall Mount Adaptor, Metal Core PCB and Ceramic PCB.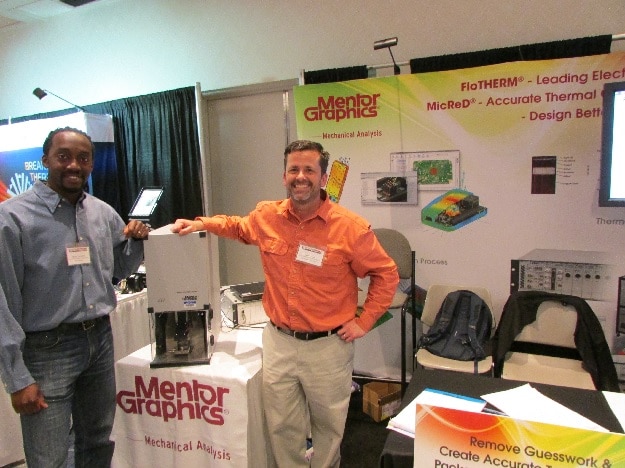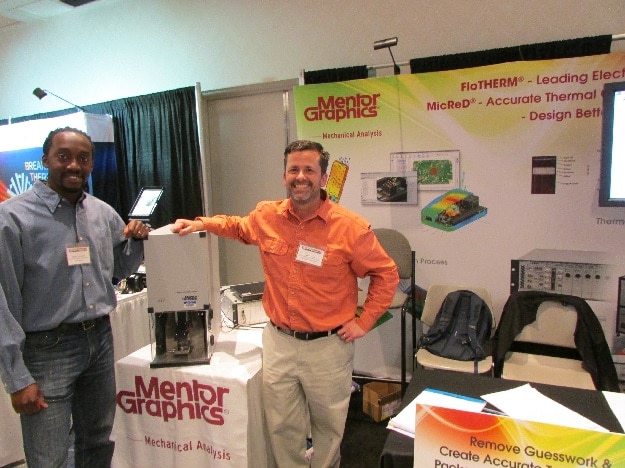 Mentor Graphics Corporation® Mechanical Analysis Division showcased the MicReD® DynTIM™ test hardware at SEMI-THERM 33 for accurate, highly repeatable Thermal Interface Material (TIM) testing, and presented the latest release of FloTHERM® XT, CAD-centric electronics cooling software. The new DynTIM S standalone solution provides an automated TIM-test environment for rapid bulk thermal conductivity and thermal resistance measurement using thermal transient test technology combined with a sample holder resembling the classical ASTM standard D5470-based methods for enhanced accuracy.
DynTIM S can measure ASTM Type I, II & certain Type III materials covering thermal greases, pastes, phase change materials, gap pads, specific adhesives, certain prepared metallic samples, and more. It features accurate temperature measurement (0.01 °C accuracy), and precise automatic sample thickness control during testing for evaluating bond line thickness (BLT) influence on TIM thermal properties to better characterize insitu performance (Thickness control: 1μ for Type I, 5μ for type II & <10 µ for Type III). DynTIM S is designed for ease of use as a priority, suitable in the laboratory for research and product development, or in quality-testing departments along the supply chain. Combined with MicReD® T3Ster® solutions, TIM degradation/aging studies are also possible. For more information, visit the website here.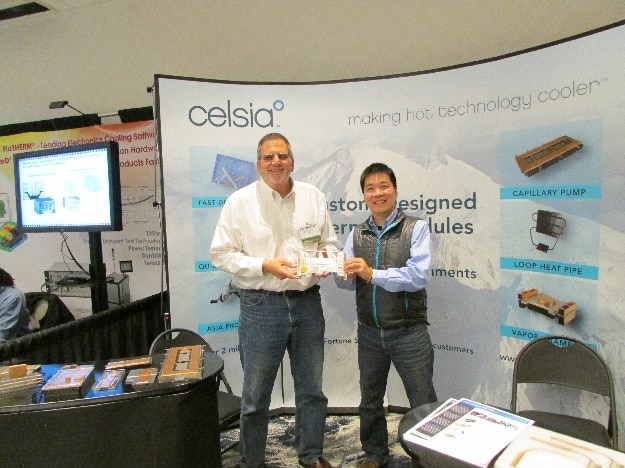 Celsia highlighted several new custom thermal solutions at this year's at Semitherm Symposium. Of particular interest were vapor chamber conduction planes for densely populated electronics, which offer the performance of graphite at a fraction of the cost, UHB (Ultra High Brightness) LED solutions –handing power densities up to 100 w/cm2, and thermosyphons designed for power electronics applications. The company is based in the US with manufacturing at its Taiwan production facilities.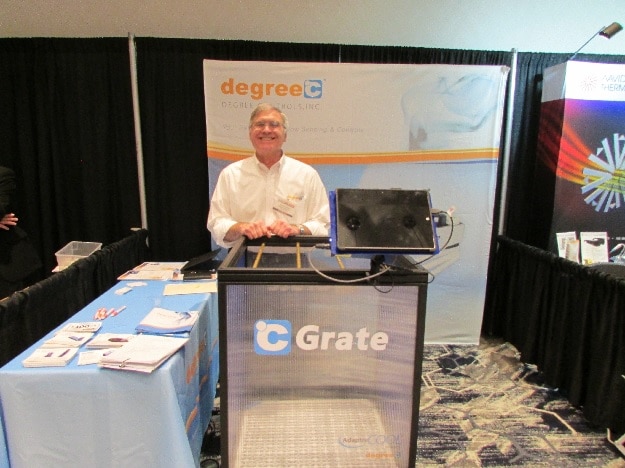 Degree Controls Inc. delivers innovative solutions to thermal issues in a variety of mission-critical applications. Degree Controls make environmental sensors, instruments for system performance testing, and control solutions that deliver precise air flow where and when it is needed most. Degree Controls delivers this at all scales of system infrastructure from miniature sensors for process controls in circuit board environments to comprehensive ventilation and cooling system controls for critical facilities.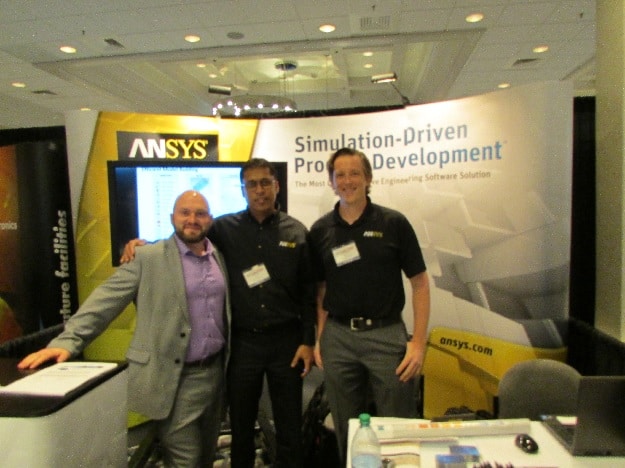 ANSYS showed off its ANSYS latest Icepak® and other related tools used in electronic hardware design. If you've ever seen a rocket launch, flown on an airplane, driven a car, used a computer, touched a mobile device, crossed a bridge, or put on wearable technology, chances are you've used a product where ANSYS software played a critical role in its creation. ANSYS is the global leader in engineering simulation. ANSYS helps the world's most innovative companies deliver radically better products to their customers. By offering the best and broadest portfolio of engineering simulation software, ANSYS helps them solve the most complex design challenges and engineer products limited only by imagination.
Editor's Note: Please use the feedback form below to make your comments and any inputs. If you have any ideas on demos or products you like to see at SEMI-THERM 2018, please provide input below. Exhibitors mentioned in the blog will definitely take notice of them!