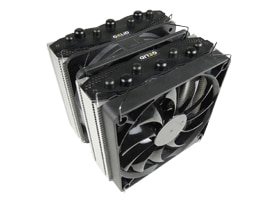 Electronics cooling specialist Gelid Solutions has released a three-fan "Black Edition" heat sink designed for gamers and computer enthusiasts.
According to the company, the new cooler incorporates a thin-fin aluminum tower design and seven independent heat pipes to draw heat away from the CPU's hot spots without sacrificing space. The incorporation of a third, center-mounted fan in addition to the two fans mounted on the front and back side of the heat sink also increase cooling capacity. The heat sink measures 109mm x 126mm x 160mm.
For more information, visit Gelid Solutions.
Image: Gelid Solutions