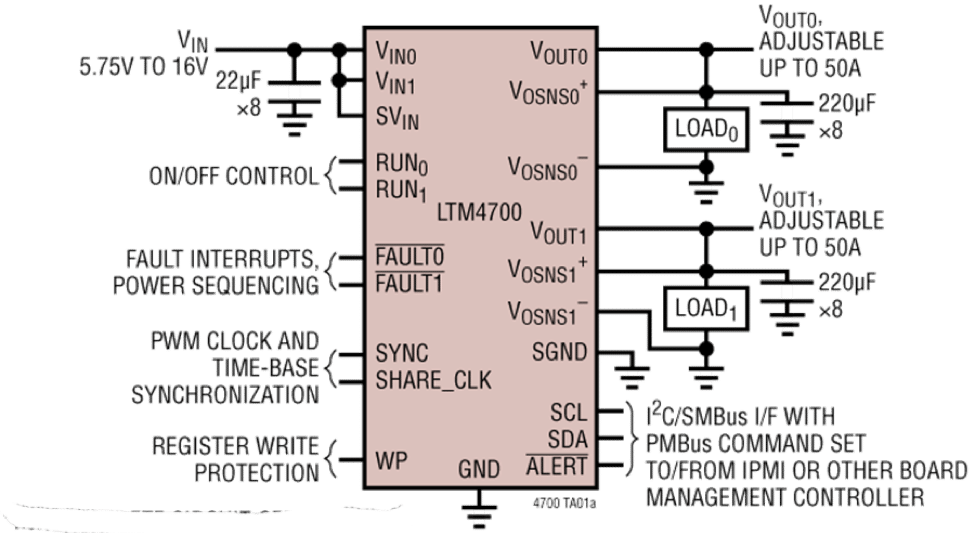 Figure 1 Analog Devices LTM4700 combines high power with the energy efficient performance needed to reduce data center cooling requirements. 
To reduce data center infrastructure cooling requirements step-down DC/DC power regulators must combine high power with energy efficient performance. 
To that end Analog Devices has expanded its suite of Power by Linear µModule regulators with the LTM4700.  Operating at 73°C using novel heatsink packaging technology, compared to existing modular solutions which typically run at 90°C, the LTM4700 can deliver full 100A at 12VIN to 0.8VOUT with 200 LTM air flow up to 70°C ambient temperature.  
Peak conversion efficiency at 12VIN to 0.8VOUT reaches 90%. The µModule's architecture also enables system designers to combine up to eight devices, delivering up to 800A of load current to meet the higher power needs of data center processors, including FPGAs, ASICs, GPUs and microcontrollers. 
"Efficient cooling is a crucial issue affecting data centers globally," said Chris Mann, VP of Power Products, Analog Devices. "Growing demand for higher-throughput, cloud-based computing services is placing a strain on current data center infrastructures and requires a new approach to thermal dissipation. The LTM4700 effectively addresses this issue, allowing data center operators to increase the density – and performance – of their servers." 
Configured in a dual 50A or single 100A configuration, the new power µModule's package technology enables an increasing server density and boosts data center throughput and computational power with minimal impact on system size and cooling costs. The LTM4700 µModule's component-on-package design includes onboard memory, data conversion circuitry and digital interface, reducing it to nearly half the size of competing devices, according to Analog Devices.  
The LTM4700 operates from a 4.5V to 16V input range, with output voltages digitally controlled from 0.5V to 1.8V. Integrated A/D converters, D/A converters and EEPROM enable users to digitally monitor, record and control power parameters using an I²C PMBus interface. Switching frequency is synchronized to an external clock from 200kHz to 1MHz for noise-sensitive applications. The LTM4700 also has self- and load-protection features against fault conditions such as over- and undervoltage, overcurrent and overtemperature. 
To assist engineers in using the LTM4700 in design efforts and allow easy evaluation of the DC/DC converter, Analog Devices offers a demonstration board designated DC2702A-A.  The board powers up to default settings and produces power based on configuration resistors without the need for any serial bus communication. To fully explore the power system management features of the part, designers should download the GUI software LTpowerPlay onto theirr PC.  
The LTM4700 is available now in a 15mm x 22mm x 7.87mm BGA package.