London, UK – 25th June 2019: This month, thermal simulation provider Future Facilities is celebrating the 10th anniversary of 6SigmaET — its computational fluid dynamics (CFD) solution for the electronics market.
First launched at the thermal engineering conference, Semi-Therm, in 2009, 6SigmaET has evolved substantially over the last ten years and now incorporates advanced unstructured gridding technology, cloud-based solving and VR integration for the Oculus Rift.
To mark the landmark anniversary, Future Facilities has announced the launch of a new interactive history of 6SigmaET — providing an animated timeline of the products, projects and innovations that have been shaped by the simulation software over the last decade. This timeline also incorporates proud moments for the team, including the creation of an industry-wide "neutral file format" for thermal simulation and 6SigmaET being recognised as both 'Product of the Year' and 'Design Tool of the Year'.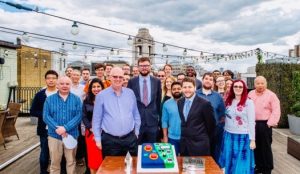 In addition to the timeline, employees and founding members of the 6SigmaET team met at the De Vere Grand Connaught Rooms this month to mark the brand's tenth year as a leading simulation provider. This event included the cutting of a celebratory thermal simulation cake along with an update on the company's future plans and developments in the electronics space.
Commenting on the event, Akhil Docca, Corporate Marketing & Product Strategy Manager at Future Facilities, said: "For ten years, we at Future Facilities have led the way for the thermal simulation industry, developing innovative, intuitive and reliable software solutions that put the needs of thermal engineers first.
"Our products have been shaped by both industry-leading research and the real-life experiences of our highly dedicated engineering team. The result has not only been a market-leading product in terms of speed and accuracy, but also a series of industry-wide developments that have come to benefit the thermal engineering community as a whole. As we look ahead to the next ten years, we look forward to continuing this commitment to thermal design innovation for our partners and our customers across the industry."
For more information on 6SigmaET and Future Facilities, and to see the 10 year interactive timeline, visit https://www.6sigmaet.info 
ENDS 
About Future Facilities
Founded in 2004, Future Facilities Ltd. is a global company that provides thermal simulation software and consultancy for the electronics and data center industries.
Driven by a team of the world's leading thermal simulation engineers and scientists, Future Facilities launched their tool for the electronics design market, 6SigmaET, in 2009. Both simple to use and exceptionally powerful, 6SigmaET has been developed as the gold standard of thermal simulation tools.
Future Facilities has offices in London, San Jose, New York, San Diego and Tokyo, as well as a global network of resellers.
Media Contacts
Alex Warren / Shaan Sidhu
Wildfire
+ 44 208 408 8000